CES 2016 Will Be Interesting Despite Itself
The world's biggest show and tell is coming to Las Vegas with truckloads of products that are only interesting when put together.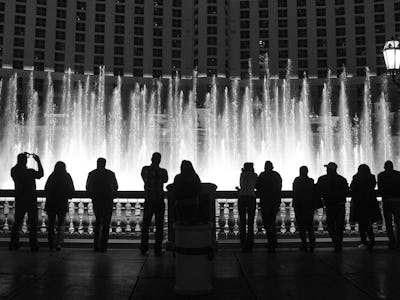 Dom Crossley (Flickr)
The next International Consumer Electronics show, known to the nervous tech world as CES 2016, runs from January 6 to January 9. Each year, CES converges in Las Vegas to forecast the coming year and show off emerging electronics and technologies. We'll see both industry leaders and exciting—but as yet small-time—startup ventures. Most of the particular breakthroughs and announcements will have to wait for the big event, but here's a glimpse into what we're expecting to see at this year's CES.
SMART STUFF
CES loves the Internet of Things, or the IoT, so expect to hear about advances in this realm. We're expecting to hear about how the IoT will transform healthcare, fitness, homes, transportation, and much more. We're expecting to hear the word "transform" a lot.
We'll also see wearable technology and associated apps that together track health and fitness, from respiration to sleep patterns to muscle mass and body fat percentage.
As more everyday objects join the grid, or the IoT, our houses will get smarter. We're talking about plants that water themselves, security systems that know who you are, and customized lighting options that'll really let you set the mood. Also, experts are set to speak about the future of cities. If you're bummed about how stupid your home currently is, take solace in the fact that your city may gain some IQ points in the future. CES is an interesting forum in which to discuss these things because the presentation is atomized, which is to say each product is sold separately, so it's fun to speculate about the interconnection of a whole system. No one is offering a closed lifestyle network just yet, but it may be possible to get a sense of what that will look like.
NEW SPORTS STATS
Another theme at this year's CES will be athletic and training gear. We'll see smart soccer balls and baseball bats (and so on) that tell you more than you'll ever need to know about your technique and how to improve it. These products have become a CES staple and though they never seem to blow up the consumer market, they just keep coming. We may be approaching critical density for a smart sports breakthrough, but people are gonna need a damn good reason to throw out their bats and gloves. It is, after all, an emotional thing.
EMPOWERED AUTOS
And, of course, cars. CES 2016 will bring us all sorts of automotive projects to drool over. Self-driving cars are already hitting the road, but at CES we'll get a look at exactly what companies and technologies are in the vanguard. And, with any luck, we'll get to kiss traffic and car accidents goodbye before long. Also, we're sure to get some exciting concept cars. We've already been given some teasers, such as the BMW i8 Spyder and the mysterious new electric Volkswagen concepts, and we're sure to see more.
VIRTUAL STUFF
No one can resist VR and AR developments. CES 2016 is sure to deliver on this front; their website promises that "Virtual is the New Reality." This industry is blowing up—the Consumer Technology Association, CES's parent organization, projects a 440% revenue growth to reach $540 million in 2016.
The biggest names, from Oculus to Virtuix, will be there to show off for the masses. Video games are well on their way to becoming virtual games, and CES 2016 will illuminate that path. But, remember: the excitement need not be limited to gamers alone.
MAKING STUFF
Yet another dominant trend at CES is 3D printing. This year's CES will take us deeper into that future, offering us an image of what could soon be a more mainstream luxury. The field's potential is expanding rapidly, and CES 2016 will demonstrate that fact.
3D-printed houses, food—real food—better and more customizable prosthetics for people and animals: you name it, and we may soon be able to print it. While 2016 may not be the year that 3D printing makes forays into the consumer market, CES 2016 will show us what we'll be able to do once it does become affordable.