'Daredevil' Season 2 Teaser Hints at Darker Tone for Netflix Series
The Punisher looms large over our first look at the anticipated second season.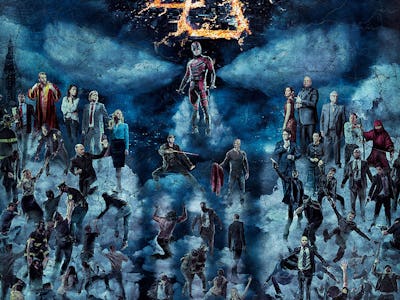 Netflix
Ask and ye shall receive. Following Netflix's semi-groundbreaking announcement on Wednesday that the streaming service would be available in a whopping 190 countries across the world, we finally get some news about the heavily anticipated second season of Netflix's inaugural Marvel series, Daredevil.
A new teaser was released online today, and though it's mostly comprised of images from the first season, we get some hints of what the Man Without Fear will have to deal with this time around and it's fairly dark.
We got a confirmed release date: Viewers will be able to stream Season 2 in full starting on March 18, 2016.
Before we get into the actual substance of the one-minute 39-second teaser — or lack thereof — it's worth mentioning that March 18 is a week before DC's Batman v Superman: Dawn of Justice hits theaters. And you've got to hand it to Marvel for this expert bit of trolling against comic book rival DC, realizing that a TV show featuring what is ostensibly one of their junior varsity superheroes is worthy enough to go up against DC's all-stars of Supes and Batman.
But the trailer itself is heavy on the Catholicism, hinting at the path Daredevil has taken through season one up to now. It also ends with a not-so cryptic nod to the addition of actor Jon Bernthal's The Punisher, the newly minted quasi-baddie that Daredevil will have to deal with while patrolling the savage streets of New York's Hell's Kitchen. Get ready.
Punisher's iconic skull logo also looms over the poster image that Netflix released today along with the teaser. It's hard to miss if you look to closely, but it's a haunting image that gets us pumped to things get even darker this season.
Daredevil will have some heavy expectations to meet after the critical success of Marvel's second Netflix series, Jessica Jones, late last year (although it could be argued that Jessica Jones doesn't need a second season).
We'll see if Daredevil is worth all the fuss when the new season hits Netflix in March.