Why LCD Soundsystem Reuniting to Tour Again Is Not a Big Deal
James Murphy's boogie-worthy band is touring, headlining Coachella and releasing a new album. So please don't get pissed! If you liked them so much -- which is still hard to credit -- then support them!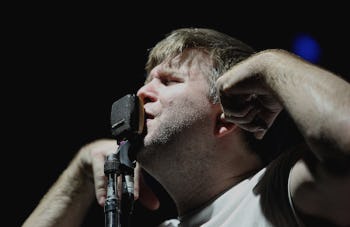 Getty Images
In 2005, LCD Soundsystem was a solo project by a weirdo DJ on a small label. Their big song was a novelty song called "Daft Punk is Playing At My House," on an album peppered with self-effacing self-analysis and oddball cultural commentary. At the time, "Daft Punk is Playing At My House" could well be situated next to other outsider goof-anthems like Electric Six's "Danger! High Voltage," Peaches' "Fuck the Pain Away," or LeTigre's "Decepticon."
Eventually, the song broke through, just like that Darkness song and other snowballing cult-y hits from over the years. Before we knew it, "Daft Punk Is Playing at My House" was up for a Grammy, despite not charting in the United States. Then the next album — 2007's Sound of Silver — found Murphy writing poignant, despondent-and-drunk-at-the-end-of-a-open-bar-dance-party song songs, working his modest baritone for all it was worth and making his limitations his greatest weapon. People's ears were perked up for good. Over the next couple years, "All My Friends" would become the suitable comedown after MGMT's "Time to Pretend" on party playlists. The album debuted at #46 on the albums chart, and got five stars from critics all over the place.
Somehow, things got crazier after their best work — the modern minimalist warhorse workout mix 45:33 got branded and got toward the top of the dance charts.
It felt like we woke up one day feeling like Rip Van Winkle. LCD Soundsystem suddenly was Daft Punk. It was zeitgeist dance music everyone took deathly seriously. Murphy — an obsessive, curmudgeonly 40-year-old man who wanted to play all the instruments — was suddenly the Duke Ellington of the hipster and pseudo-hipster dance floor: a great bandleader. Rolling Stone dubbed them "the planet's fiercest live band." James Murphy was playing nice with others and rocking the free world. 2010's This is Happening hit #4 on the charts.
Then came 2011, when they decided to say goodbye. The tearful send-offs and disbelief around the time of their (supposedly) final Madison Square Garden extravaganza were surprising — I have to admit — to this author. The live stream of the show glitching because so many were tuning in, the epic tour that proceeded it, and the endless adulation all puzzled me. How different was LCD than most musicians?
I never thought of Murphy as, particularly, a revolutionary. The synthesis he struck between disco, "downtown" New York mutant funk, modern electro-pop, and bipolar lyrical posturing particularly didn't seem as mind melting, just like great party music you could also feel to. It wasn't so far off from similar territory other acts were mining, I figured. I had all the records. I've teared up at "Someone Great" and lurched into motion, emphatically, when "Dance Yrself Clean" came up on someone else's iPod Classic. But LCD only really had two huge albums. If MGMT had made a slightly different record than Congratulations (which still hit #2 on the U.S. albums chart, by the way), would they be streaming video from MSG for a farewell show? Would Hot Chip, or The Knife (who have also retired, to nowhere near the same fanfare), or Ratatat, or acts with more music with a similar devoted following, and inspire lots of in memoriam thinkpieces? Those bands probably wouldn't be releasing box sets and movies all over the place, I suppose.
Somehow, though, none of these acts would be prospective Coachella headliners. Then again, why is Calvin Harris headlining this year? Why are we here, on Earth? Why are we upset — or dumbfounded with surprise — that LCD had their schedules aligned so that they could mount some big shows, record some (probably low-stakes) new songs, and experience another taste of the live music-based life regimen that sustained them for so many years?
Reunions mean nothing (except maybe this crew wouldn't be Headlining Coachella if they hadn't "broken up"), and bands like LCD Soundsystem don't make as much cheddar as you think they do. Plus, some have pointed out that there were subtle hints toward Murphy's regret about abandoning the band years back. Maybe throwing in the towel was just a knee-jerk reaction to touring a super-energetic, real live show way more than people looking to stay sane should.
It doesn't matter. The all-of-a-sudden return of James Murphy and the Gimme Gimmes should not change how you feel about the band, certainly — as if this was a sellout move. It was fine to be grumpy about the Dead's return, because after all, they were coming back on their high horse fronted by John Mayer, and they had literally just finished a goodbye tour. That's just depressing on a level this LCD thing could never be.
But times are so hard for musicians, and anyone in the music industry, in terms of making a living — so much so that there are few to zero proper examples of "selling out" left. The term seems simply obsolete. It was never a fixed, real concept anyway, like many words we harp on. For instance, the original "hipster" starred in (sweet) Betty Boop cartoons and sang with Bing Crosby ("hip" in many people's books) on the radio. What's in a word? But I digress.
These days, those who go for money grabs we might be tempted to call shameless — like U2 putting that album on our iTuneses and Phoneses without asking, or extremely wealthy singers who don't need the money selling us soda and Subway yoga-mat-bread sandwiches — are people who we practically assume would obviously be doing that kind of shit. It shouldn't remotely surprise us. Plus, putting out a new album and doing some big shows is not the same as, like, selling your track to a Kia commercial or whatever!
I mean, I don't know, wasn't Murphy always a "sellout"? Again, whatever.
Of course, LCD Soundsystem is back. How many Noah Baumbach soundtracks can a man do? How much can one give a shit about wine compared to rocking out at the most prestigious venue in the United States?
Let a man live, and help him down off that pathetic little pedestal you built for him out of 12" singles, stained-armpit festival-going V-necks, and copies of New York Noise. Just dance yrself clean, if you have the cash; this is, as it were, happening. Prove that you really meant it when you said LCD Soundsystem was the best band in the world, and support their desire to turn your legs to jelly all over again.