The Grateful Dead's Latest Move Is Pure Greed
Dead & Company's tour insults the band's legacy and, worse, its loyal fanbase.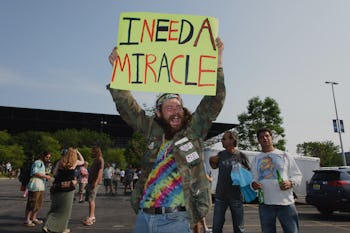 October 29th in the year of our Lord 2015 marks Dead & Company's first official tour date. The group — an assembly of Grateful Dead members, associates, and John fucking Mayer — will tour much of the U.S. for the next two months. It's a crying shame worse than just another classic band cash grab: It's a broken promise.
Let's get this out of the way: I'm a massive Grateful Dead fan. It's my favorite band of all time, in the same way Pulp Fiction is my favorite movie. People ask you, "Hey what's your favorite so-and-so?" and having an answer is better than not. I was too young to have seen Jerry Garcia live OR SO MY PARENTS TELL ME. The last time they played Denver, where I grew up, was on December 1, 1994. I was 11 and I begged my parents to take me. I'm still mad they didn't, but that subject might be more fitting for one of my psychiatric appointments. But, just for fun, here's an actual Gchat I had with my mom today:
me: dec 1, 1994
do you know what happened on that date
Penelope: not off the top of my head
me: last time the grateful dead played colorado
WE SHOULDA BEEN THERE MAN
Penelope: get a LIFE
Garcia died the next year. Since then, I've amassed a Public Storage unit sized collection of Dead tapes, videos, CDs, DVDs, t-shirts, posters, books, stickers, cups and one pretty sweet backpack. I've seen dozens of iterations of the remnants — RatDog, Phil Lesh & Friends, The Dead, Furthur — dozens of times. I say all of this to lump myself in with the presently offended party. But, really, you don't even have to be a fan to be insulted by the latest actions of Bob Weir and friends.
The remaining members of the Dead famously played its "Fare Thee Well" shows this summer in Chicago. When those sold out, the group sold out, announcing more sets in their homebase of the Bay Area. It was a shock, especially to those who had paid hundreds — if not thousands — of dollars to catch what promised to be the last time the remaining members would play together. But, "the Grateful Dead" — I have a hard time calling them that, especially these days — got away with it because the Windy City concerts were still going to be the last ones. Or were they?
I almost went. I know a lot of people who did and they paid for it. The shows were actually pretty decent — especially toward the end of the run, bolstered by the dexterous playing of Phish's Trey Anastasio. I watched the last one on a stream at Brooklyn Bowl. (The streams were a pretty penny, too, as is all of the merch they sold at the shows and afterward.) But, the band got away with the obvious gouging because of the "last-ever" tag. They even got Jerry Garcia's daughter to announce the shows:
Okay, so maybe Bob Weir, Bill Kreutzmann, Mickey Hart, and Phil Lesh will never be on the same stage again. Lesh isn't in the Dead & Company lineup which, despite the recent news that he is battling cancer, seems little more than a technicality. I love Phil Lesh. He's an integral part of the band, but if Bob Weir was interested in preserving the integrity of "Fare Thee Well," he wouldn't have tagged this latest iteration with "Dead." So, what next? Lesh gets healthy — as is hoped for with his good prognosis — and he comes back into the fold but they leave Hart riding the bench to get some more of that sweet, sweet ca$h while ostensibly respecting their principles?
And the real problem here is Weir. He's always been a greedy sonofabitch. Ten years ago, he got into it with the Internet Archive about free Dead show downloads. Seriously, dude? You have hundreds of millions of dollars. My opinion on Weir was softened by the Netflix doc, The Other One, where he appears as a spaced-out, intelligent, and chill dude.
But, now, here we are with Dead & Company. And let me be clear that John Mayer isn't the target of my animus. He's actually a decent — if goofy — guitarist (although a far cry from Anastasio). It's on Weir and the rest of the ex-Dead members going along with this ruse. They might be able to skate through lawyerly formalities and, sure, plenty of people will still go to these shows. But, for the rest of us, it's all just a major bummer.