Nevada Sex Workers Say They're Ready to Weather the Coming VR Porn Deluge
VR porn doesn't worry IRL sex workers.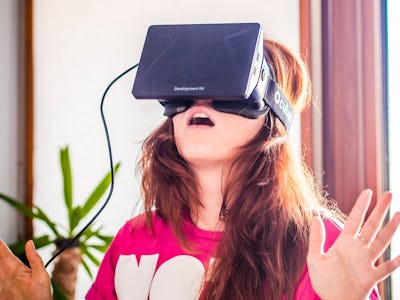 Flickr.com/Sergey Galyonkin
We are witnessing the dawn of the virtual reality porn genre. But prostitutes like those at Sheri's Ranch, a legal brothel in Nevada, aren't afraid the world's hottest tech will eclipse the world's oldest profession. In a post published in December, the sex workers at Sheri's Ranch argue that while VR porn (now offered by the tube sites you'd imagine) could be an upgrade to video stimuli, live sex has more to it than just getting off easy.
Right in time for the International Consumer Electronics Show — which is correlated with a spike in attendance at Sheri's Ranch, writes Re/Code — the brothel blog showcased the VR porn-prostitute divide from the perspective of Nevada sex workers. Live sex work has a human element, says Marly, that pornography can't touch:
"People don't visit prostitutes just for a "Wham. Bam. Thank you ma'am." Our customers, including those that make their way to us from CES, seek our company for comfort and compassion. We offer real intimacy, not the illusion of intimacy."
And, in Red Diamonds' eyes, VR could be a respite for the anxious, but she'd be a better teacher:
"I think that in the future many men may use VR for sex because they lack experience and are extremely nervous in situations with women."
Amber Lynn, however, takes the pragmatic route:
"Let's face it, virtual sex has a couple of advantages over visiting a legal brothel. Not the least of which is that it could very easily fit into a person's busy schedule. In a future world of VR sex, there wouldn't be any travel time or flight costs. Heck, a guy wouldn't even have to go through the trouble of taking a shower before seeing a virtual prostitute."
Putting on a VR headset is, without a doubt, easier than jogging off to Vegas for a weekend. But missing in these arguments is the sense of virtual reality offered by Oculus Rift and its ilk — a truly immersive experience, one that captures the presence of being like no other technologies have before. And, believe you us, pornographers are anxious to exploit that sensation, blurring the line between simulated sex acts and the whole circle-of-life shebang.
Porn actress Ela Darling, for instance, believes that VR can foster intimacy (or at least simulate it), cutting to the heart of the IRL brothel argument. As Darling told Inverse in November, her one-on-one Skype sex sessions already offer more than climax. She sees VR as a way to amplify the emotive aspects of her job. That depends whether or not VR tech can actually pull this off.