Tube Sites Are Already Bracing for Virtual Reality Porn
There's even a free trial for all the skeptics out there.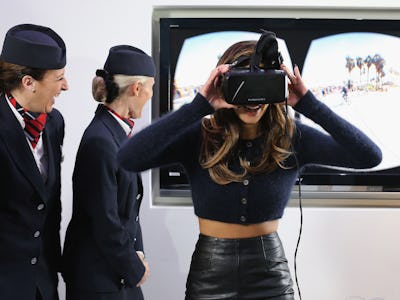 Getty Images
People looking to do away with those incognito windows in their web browsers are in luck, the biggest porn site on the Internet is now fancying itself as the new dirty Netflix.
Montreal-based smut empire Pornhub is now moving into the streaming business by launching Pornhub Premium, a $9.99 per month subscription service to stream over all the high-res ad-free videos your heart and other parts desire. Compare that to the $7.99 to $11.99 per month prices for streaming king Netflix and the value proposition gets fuzzy. Then consider this: The service will be available on mobile devices and your future Oculus Rift.
VentureBeat reached out to the site's Vice President Corey Price to ask how they plan on rolling out streaming VR porn. "Well, once we release for VR headsets, we'll be looking to support the Oculus Rift first and foremost (with others potentially on the horizon)," Price told them. "The Oculus makes the most sense to develop for at the moment, given its brand recognition, so that's why it's our initial choice. But it'll work the same way most videos and/or games work on VR — you feel as if you're really there in front of the actors. The device's gyroscope, magnetometer, accelerometers, and 360-degree field of view will all play into the porn experience ideally."
The pitch towards VR is a smart move for the site, not only because porn is already widely available for free online, but also because the sex industry is full of early adopters. The tech-y porn producer is a cliche for a reason. Just look at the rapid rise of VHS and its relation to porn in the 1980s as a model for how the Oculus Rift could use PornHub and vice versa as a platform to eventually break into the mainstream. Mainly, it could give a boost to PornHub's new venture, but also make the VR technology acceptable before it makes a bigger commercial splash.