The VR Pornstar of the Future Will Play Therapist, for Better and Worse
Virtual reality intimacy is going to be a growth industry, but is emotionally empowering sex workers in transactional relationships really a good idea?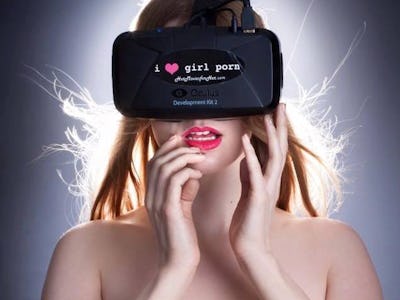 https://www.facebook.com/eladarling
According to Ela Darling, porn's potential as a tool for emotion growth and counseling is often overshadowed by a popularly imagined seediness or the immediacy of the thing. Darling, an adult performer who co-founded the virtual reality porn site VRTube.xxx, thinks the intimacy at the core of pornography, the germ of fantasy, is about to come into better focus. With the advent of VR porn and its emphasis on live, tailor experiences, Darling is predicting — and betting — that adult entertainment is about become both more human and more humane. This is, she says, what the massive viewing audience has always wanted and never really been offered.
VRTube allows users in possession of Oculus Rifts to watch either prerecorded, "one-on-one" sessions with porn stars, which can't be fast-forwarded or rewound, but are completist in every sense — or engage with performers in real time, making "special requests" at a price. This is, in essence, cam girl economics, but Darling puts an emphasis on emotion and interaction because VR can offer intimacy in a a way that a MacBook, retina display or no, can't.
"People say that, with virtual reality, you'll lose yourself and never talk to humans again," Darling told Inverse. "But you can be in the headset and interact with people in a way that you might never have the opportunity to do in the first place."
Darling isn't claiming that VR tech is birthing emotionally beneficial pornography — she argues that's been around for some time — just that the "closeness" of VR porn makes fostering emotional intimacy relatively easy. It also puts it at the core of a transaction. The desire for companionship is a big part of the adult industry that's often overlooked and VRTube can differentiate itself from PornHub by offering something distinctly not mass market. Currently, we watch amalgamations of fantasies instead of experience our own. Darling, a veteran of many Skype sex sessions, says most of her fans really just want to talk. VR let's them do that — and more — in a way that feels and is, on some level anyway, real.
"I'm still a little bit in awe today that people will take me into a private room for two hours — they're paying $6 to $10 a minute — to talk about comic books, their dogs, how shitty their bosses are," Darling says, adding that she's more than happy to listen.
Darling tells a story about a fan asking to simply chat with her in a private room after going through a breakup. "He didn't even ask me to take off my clothes. We talked about it. I got him off also, because that's what I'm there to do, but he would have been just as happy if I didn't," she says. "He felt like he had established enough of a rapport with me that talking to me about his problems made him feel okay. That is powerful."
It's powerful enough to be dangerous, warns Timothy Lee, the Clinical Director of New York Pathways, a treatment center for sex addiction. Emotional intimacy, after all, is a risky thing to toy with, especially when individuals are at risk of forming unhealthy relationships with adult performers rather than the people around them. Half of the clients he sees "are struggling because of their compulsive relationship to pornography," he told Inverse.
Lee uses the term 'intimacy disorder" to describe the anxiety and anger issues addicts sometimes experience in real relationships. Pornography and commerce are less complicated than memories, resentments, and emotions. They represent an easy alternative.
"With VR porn — the whole empathic, intimate experience — I could see that being more devastating than someone just dealing with pornography," Lee says. But issues with addiction aside, he does admit that VR porn could, in theory, be helpful for people who are sexually repressed or battling sex-related phobias.
Darling is fully aware of the danger that comes with crossing boundaries, and she's careful not to say anything to her fans that might blur the nature of their relationships, even if it might make them feel better emotionally. In this way, she is perhaps most like a therapist: Her rule of thumb, one that responsible clients keep in mind, is her sessions are ultimately transactional in nature.
"Transactional relationships are not "girlfriend" relationships," she says. "When you start blurring those lines, there's a level of willful ignorance where you really are just deluding yourself because you want to."
This might come across as callous, but it's representative of both a historical norm and a practical worldview. The question posed by Lee and the situation is whether or not Darling can be trusted to leave money on the table instead of hurting her clients. If the transactional nature of a VR experience presents a psycho-sexual hurdle for clients, it also represents a moral hazard for Darling. That said, she is smart and thoughtful and empathetic. She's not a therapist, but, talking to her, one is tempted to believe she might be the next best thing.
"If you have needs, and you find a way to meet those needs in a way that are consensual and positive for everyone involved, who the fuck cares?" she asks. "There's no one right approach to sexuality. There's what works for you and what doesn't."