Oregon's Cannabis Culture Smoothed the Way for Marijuana Legalization
Betcha didn't know Oregonians have been growing on the Cascades for decades.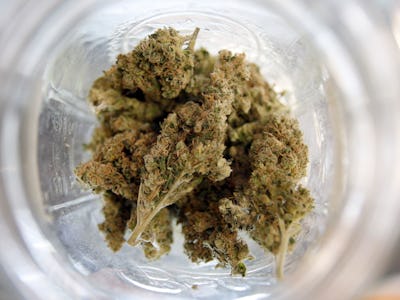 Getty Images
When I checked in with The Oregonian staff writer Noelle Crombie on the eve of the state's one-year recreational anniversary in October, she had this to say: "Frankly, I don't know if we have answers to your questions yet. There's still a lot we don't know about the regulated recreational market in Oregon." A few months later, I called up pot entrepreneur Norris Monson for his take. "In general, things are going pretty well." Monson says from Portland. "We're pretty excited."
Monson is the head of Cultivated Industries, does cannabis consulting, and is the member of the NCIA, the Measure 91 Finance Committee, and the Oregon Cannabis PAC. I ask him about what Cultivated Industries does. "Right now, we are currently growers and extractors," Monson says. "We've got a warehouse that will have about 10,000 square feet of flowering canopy. We are also applying for a Tier 1 outdoor license, meaning we'll get about 40,000 square feet of outdoor canopy." The company "has relationships" with 130 dispensaries in the state, does CO2 and hydrocarbon extractions, and has its own dispensary opening up in about three weeks.
Because rollouts can be a little tricky, I asked Monson about Oregon's first days selling recreational marijuana. "Nobody ran out, to my knowledge," he tells me, before explaining that people had been growing for years leading up to the event. "Two years ago if you took a snapshot, there was a rising number of medical patients and the amount each person is able to conceivably produce is pretty astronomical. Oregon is a net export state. There was no shortage of cannabis for Oregon." He adds that the outdoor fall crop came in right at the time sales began.
Monson grew up in Minnesota and he tells me that Oregon is just plain different. "It is noticeable that there are cannabis shops pretty much everywhere. That's definitely changed," he says of Portlandia. "Here in Multnomah County, there have been shops for a long time. Essentially there was a big period of time where there weren't really provisions allowing for medical dispensaries and people kinda did it anyway. There wasn't a law." He adds, "A lot of people grow cannabis here."
"I haven't heard of any significant backlash," he goes on. "The thing about Oregon is that this is a place that's been cultivating cannabis on the western side of the Cascades for four or five decades. It's pretty ingrained. There are multi-generational families that have been doing this forever on big, outdoor plots. It's just a different culture. Eastern Oregon: People aren't so excited about it. But the population over there is not very significant. Almost everybody lives on the west side of the slopes."
Monson feels that the legalization hasn't changed much in his personal life, either. "I'm a parent, I have two kids. I have a lot of interactions and I tell everybody what I do," he says. "I'm waiting for somebody to say, 'Shame on you." But, usually, everybody has a pause and then it's high five city: 'Oh yeah!' Culturally here: If somebody grew up in Oregon and they say they haven't seen pot growing, I think they're a liar."