Get This, Mads Mikkelsen Is Playing the Villain in Marvel's 'Doctor Strange'
An exclusive from 'EW' confirmed he'll be the bad guy, but doesn't say who exactly he'll be playing.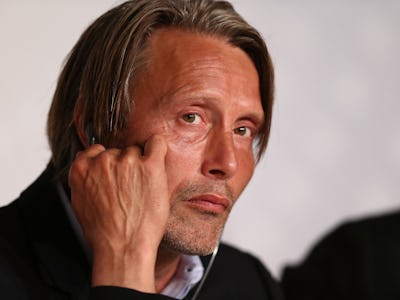 Getty Images
Earlier today we brought you news of Entertainment Weekly's first look at Benedict Cumberbatch as the Marvel Cinematic Universe's newest superhero, Doctor Strange. We made the — at the time — appropriate complaint that the reveal was a bit premature in these all-knowing internet days considering we didn't even know the characters that other fine actors) like Mads Mikkelsen and Rachel McAdams will be playing in the movie. But like a wizard granting magic wishes, we now know who Mikkelsen will be playing in the movie…kind of.
EW just dropped more new info about Mikkelsen's character, explaining he will be the villain of the movie. But the post neglects to explain exactly who he'll be playing, which in the vast lineup of Marvel comic book villains basically means he could be playing really any comic book bad guy your Marvel-loving mind can dream up.
"Mads is playing our main villain," explained executive producer Stephen Broussard to EW without elaborating any further. Marvel president Kevin Feige also added to the speculation saying, "We will take audiences through sort of a guide to the multiverse, other dimensions, and there are amazing things out there — wonders that are going to be hopefully visually extremely interesting and unique to this movie," and continuing, "But there are also very scary things in these other dimensions."
Mikkelsen will undoubtedly be one of those "scary things" that Cumberbatch's titular doctor and Tilda Winston's character, the [Ancient One](http://marvel.com/universe/AncientOne(sorcerer), will be tasked with battling on Earth and in different dimensions. Feige then explained that Mikkelsen's villain will pull a Darth Vader and be a sorcerer that breaks off into his own sect from the good guys including Doctor Strange and the Ancient One.
This news might be surprising to Marvel fans who have kept up with the unauthorized set photos from Nepal that leaked to sources last month which show actor Chiwetel Ejiofor as [Baron Mordo, Doctor Strange's main adversary](http://marvel.com/universe/BaronMordo(Karl_Mordo).
Since Marvel confirmed that Mikkelsen will be Strange's main baddie, this may suggest that the movie will do some simple place-setting with Mordo and introduce him in a main villain role like Loki in the as-yet-unannounced sequel further down the line.
Until Feige and the Marvel head honchos decide not to be so cheeky we'll have 11 months to speculate on what characters Mikkelsen and others will play when Doctor Strange debuts in theaters on November 6, 2016.