Video: Monday's NASA Spacewalk Around the ISS Goes Off Without a Hitch
It is a pretty amazing reminder of how well NASA and its astronauts embody the principle of 'grace under pressure.'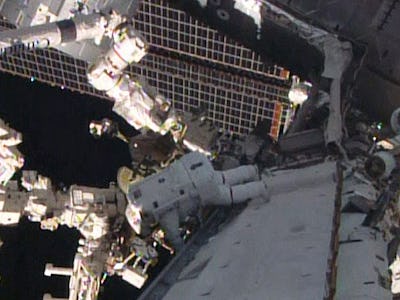 NASA TV
On Monday morning, NASA took an usually bold step and went on an unplanned spacewalk aboard the International Space Station to make repairs to a few key pieces of equipment that had malfunctioned last Wednesday.
In order to ensure a supply ship would be able to successfully dock with the space station later this week, two astronauts had to step outside. The operation was a success, and it is a pretty amazing reminder of how well NASA and its astronauts embody the principle of "grace under pressure."
Problems arose on December 16, when the Mobile Transporter — a robot arm-carrying transporter that plays an important role in allowing supply ships to dock with the ISS — stalled as NASA flight controllers from the ground tried to move it from one position of the ISS to another. Engineers would soon determine that a brake handle had inadvertently engaged.
During Monday's spacewalk, astronaut Scott Kelly (aboard the ISS for a year-long mission) disengaged the brake and found that the MT's rails were able to move back and forth like normal again. The 14-year-old MT was then shifted into the position ground control had attempted to move it into last week.
Overall, the three-hour 16-minute operation went off without a hitch, finishing just as the ISS began to make its way above India and Sri Lanka. Kelly has now accrued over 18 hours in spacewalk operations, while his counterpart for today's mission, the newly-arrived Tim Kopra, has a little over eight hours under his belt.
NASA greenlit Monday's spacewalk just three days ago — a stark contrast to how most Extravehicular Activities are planned months in advance.
Why was this such an important thing to fix? Simple: the ISS is running low on a few essential resources. A Russian Progress supply craft blew up last April, and SpaceX's catastrophic failure from last June have cut into the ISS's on-board reserves.
Another Russian Progress spacecraft that launched Monday is carrying 1,918 pounds of propellent, 105 pounds of oxygen, 926 pounds of water, and 2,804 pounds of other necessary equipment and supplies. NASA can rest easy now that the Progress ship — and other future resupply missions — will be able to dock with the station and deliver those resources safely on Wednesday.
The next EVA is planned for January 15, when ISS astronauts will replace one of the space station's eight power regulators. That sounds worse than it is — the ISS is doing just fine when it comes to power, and NASA seems to have everything under control.
If calmly accomplishing zero-gravity tasks while floating 249 miles above the Earth sounds appealing, you may want to consider applying to be an astronaut.