NASA to Make Critical ISS Repairs During Spacewalk on Monday
Days before Christmas, astronauts plan to take unscheduled spacewalk at the International Space Station.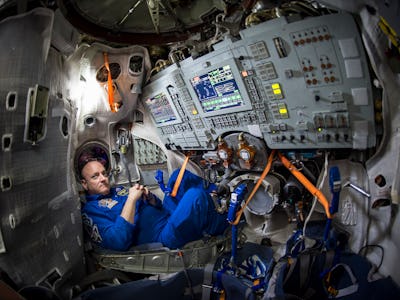 Bill Ingalls/NASA, Getty Images News
Apparently, not everything is calm in outer space these eves before Christmas. NASA announced Friday that it will send astronauts on an unscheduled spacewalk from the U.S. Quest airlock on the International Space Station just days before the holiday.
The Mobile Transporter is having what amounts to a very small problem. The railcar that runs the length of the ISS on a 278-foot stretch of track at a speed of 1 inch per second, according to The Verge, stalled out on Wednesday and is a mere four inches from being latched in its proper place. The Transporter moves equipment and the 14-year-old robotic arm, the Canadarm2, that is used for maintenance and assembly on the Station.
A team at Houston's Mission Control Center was trying to fix the problem of unknown origin remotely, but unfortunately didn't succeed. It will need to be resolved quickly before a Russian cargo resupply spacecraft docks there on Wednesday.
Space.com is reporting that Kenny Todd, the station's Mission Integration and Operations Manager in Houston, says that they suspect a stuck brake handle is the cause of this mechanical jam. The last time the Transporter was stuck was December 2005, when Gizmodo notes, "a cutting system accidentally fired and cut the power and data cables. A blade-blocker was installed in July 2006 to prevent any repeat incidents."
The two lucky and weightless explorers to make the extravehicular move are Expedition 46 Commander Scott Kelly, who's done this sort of thing three times and is nine months into a year-long mission, and Flight Engineer Tim Kopra who just made his way into the heavens on Tuesday. They'll leave their celestial abode to make the 191st spacewalk to maintain the ISS.
The plan to unjam the machine will be evaluated by the ISS management team Sunday, when the final decision will be made on whether or not it's a go. Kelly and Kopra will likely be heading out this Monday or Tuesday. NASA notes that the Russian supply vessel, ISS Progress 62, is scheduled to launch from the Baikonur Cosmodrome in Kazakhstan at 3:44 a.m. EST on Monday and dock at 5:31 a.m. on Wednesday.
Once the spacewalk is confirmed, you can watch the future happen from the warmth of your bedroom on streaming NASA Television. Coverage will begin 90 minutes prior to the venture.