Astronaut Tim Peake Bid Us Goodnight From Space With This Photo
The British astronaut offered a glimpse of what nighttime looks like from the heavens.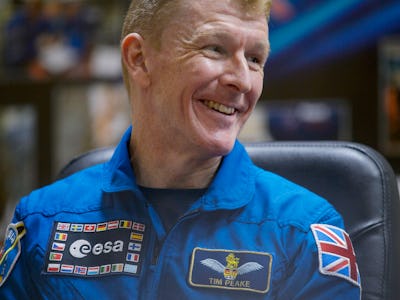 Reporting from "Low Earth Orbit," according to his Twitter location, astronaut Tim Peake decided to wish the world a "goodnight from space" with a magical snap of altocumulus clouds from the other side of the atmosphere.
Peake is a newcomer to space and the first Brit to get that far out from the UK. He left the planet just four days ago with a team of American and Russian astronauts from Kazakhstan on a Soyuz rocket.
This is his first romantic snapshot of Earth from the stars:
The man who trumped more than 8,000 other Europeans to get to this post felt a little funky over his first 24 hours up there. But, according to this interview with the European Astronaut Centre in Cologne, Germany, he's adapted quickly to his surroundings. Peake seemed to bring a bit of jolly British humor to the ISS in the press conference and even joyfully attempted a backward flip sans gravity. (He did a lot better with that photo.)
Peake awoke to a busy morning, too. He shed some blood in the name of science with the assistance of Tim Kopra, his fellow astronaut slated to take a spacewalk in a few days to repair the ISS's Mobile Transporter. Thanks to Twitter, we'll be able to keep track of more of their out-of-this-world antics.