First British Astronaut Fancies a Trip to Space, Doesn't Realize What He's Getting Into
Tim Peake will become the first Briton, without dual-American citizenship or a private contract, to go into space on December 15.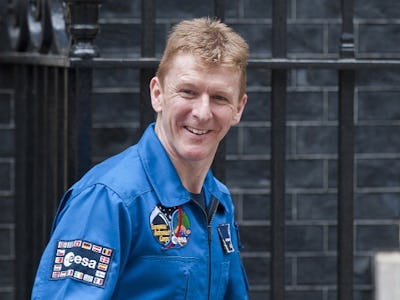 Getty Images
Tim Peake plans to become the first Briton without dual American citizenship or a private contract to fly in space when he launches with a team of American and Russian astronauts on December 15. But by the look of this photo of him at a NASA training facility in Houston this week, he may be reconsidering his chosen career path.
In fairness, Peake may just be playing it coy. With 17 years of experience flying planes for the British Army and two weeks aboard the Aquarius underwater laboratory, Tim is hardly a stranger to intense conditions. Peake beat out more than 8,000 other Old World applicants to earn his spot among the current class of six European Space Agency astronauts-in-training. To acknowledge the first-ever British contribution, the ESA named Peake's mission, Principia, in honor of the magnum opus of a fellow Brit, name of Newton, whose contributions to space travel were considerable to say the least.
The United Kingdom has rallied behind Peake as a symbol of their new, gentler, post-Imperial image.
The British Army wished him the best on his mission.
And it seems like the whole country will be watching the launch live on BBC.