Martin Shkreli Says He Wants to Free Bobby Shmurda -- on One Condition 
In an extensive interview with HipHopDX, the Turing Pharmaceuticals CEO proves he is the worst.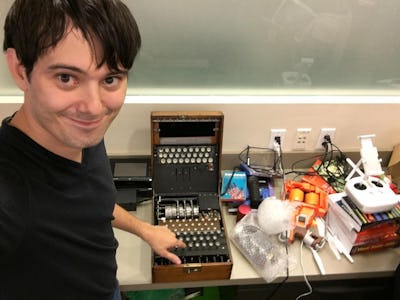 Martin Shkreli/Twitter
Earlier this month, it was revealed that Turing Pharmaceuticals CEO and noted asshole Martin Shkreli bought the limited edition Wu-Tang Clan album Once Upon a Time in Shaolin for $2 million. He could afford it because, among other shady business practices, he raised the price of vital HIV treatment drug Daraprim from $13.50 to $750. Nobody — except for Shkreli — was happy about that. Given Shkreli's disgusting reputation, RZA explained, "The sale of Once Upon a Time in Shaolin was agreed upon in May, well before Martin Skhreli's [sic] business practices came to light. We decided to give a significant portion of the proceeds to charity." Now, Shkreli has fired back against RZA in an extensive interview with HipHopDX. In addition to inciting a "war," as he calls it, he also claims he'll bail out Bobby Shmurda from jail and says many, many heinous things.
Shkreli isn't completely insane to begin the interview. At first, his claim that he'll help Bobby Shmurda is actually fairly altruistic:
"We're actually in discussion to try to bail out Bobby Shmurda. Forget whether you think he's guilty or not, the guy should not be sitting in jail right now. It's insane. He's from Brooklyn. I'm from Brooklyn. He deserves a fair trial. He deserves good lawyers. He doesn't have good lawyers. His label is hanging him out to dry and so I have a conference call tomorrow morning with them (December 15)."
Then, he makes it about himself. He says, "I'm a fan and I'm a business man. I'm not going to do this for free. [Laughs] He's going to have to do something for me. I don't know what that's going to look like yet. He's going to owe me one, obviously." Other than literally sounding disgusting, it's pretty cold — but expected — that Shkreli's only motive to be kind to another human being is to become a rapper or a hip-hop mogul or something. He literally says, "I'm an opportunist."
Once he's finished sending mixed signals (just kidding, they're really straightforward, just bad) about Bobby Shmurda, he tries to roil up some beef with Wu-Tang Clan, specifically targeting RZA. Earlier this year, Ghostface Killah and Queens rapper Action Bronson had a feud of their own, which has since been settled. Shkreli, however, sees Bronson — who, by all accounts, came out worse than Ghost — as his model for going up against the Clan. Like Shkreli, Bronson is Albanian, and according to Shkreli, that means he's pretty much allowed to try to kill you. I think you have to give him a first try with your hands tied behind your back.
"The Albanian community is a very weird community. We're some of the most tight-knit kind-of kill for each other, die for each other motherfuckers there are. People say it's one of the craziest ethnicities there is in terms of their loyalty and bloodlines and shit like that."
All of his hate for the Wu-Tang Clan, of course, stems from RZA's comments. Shkreli believes that the $2 million he spent on the album affords him immunity. He was so proud of himself and his beliefs that he tweeted his own quote about how money should basically force people to be nice to him.
Well, Shkreli, money can't buy you respect, so RZA can continue to back away from responsibility for the sale. But because this is Shkreli's ethos, he thinks he can buy respect in the rap game, too. He wants to be a rapper and thinks he's qualified because, as he says, "I've played guitar and piano since I was a little kid." He added, "I've got a good vocabulary, a decent sense of humor and enough material to last a fucking lifetime."
If his raw "decent" talent isn't enough, he says he'll pay off Ace Hood, for some reason, to claim he's tough as shit.
Shkreli closed the interview with words about Taylor Swift so arrogant, insulting, lewd, and just plain wrong that they shouldn't be replicated. Needless to say, he should be hearing from Swift and her lawyers very soon.
The HipHopDX interview is the peak of Shkreli's media frenzy. It would be a nadir for anyone else, but this guy seems to work backward. He is delusional and contradictory — like how he says, "The arts for me is about art," in the same interview where he talks about not letting Bobby Shmurda stay free without making music for or with him. What's certain is that he's a megalomaniac, willing to say whatever it takes to make headlines and get people to care about his existence. So, let Shkreli be Shkreli. He'll get tuned out eventually.
Read Martin Shkreli's full interview with HipHopDX here.