Why Vince Staples' 'Summertime '06' Is the Album of the Year
It's an unlikely pick, but in terms of aesthetics and message, little else in 2015 -- an exceptional music year -- came across as clearly as the Long Beach rapper's debut album.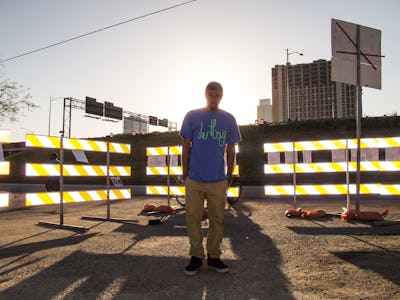 Facebook
In a sense, Vince Staples is the rapper equivalent of the movie Spotlight. I know, but hear me out.
Both his music and that film, which feels at first like typical, hyperrealistic "Oscar fare", scan at first as familiar and almost non-descript: just good, but nothing that is staking out new ground.
Like Spotlight, Staples digs the talons in slowly on his Def Jam debut album, *Summertime '06," which came out in late June of this year. At first, it's just lightly engrossing, giving you a familiar, simply pleasant sensation. It takes awhile to fully lose yourself in the record, but when you come out of it, you realize the experience has been pretty much one-of-a-kind.
The voice of the record takes a bit to make itself clear. It's one which Staples hinted at across his previous mixtapes — particular his lyrically acrobatic Shyne Coldchain duo — but never contextualized in such a polished, streamlined format.
What is most striking about the album, initially, is how cohesive it is — almost effortlessly so. It doesn't function as a concept album, but definitely as a suite of interrelated musical ideas. It's a double album which keeps the good elements of the format, and does away with the bad. There are different stylistic touchstones, weird diversions and interludes and subtle musical interconnections across far-flung parts of the album, but nothing superfluous.
Vince sticks to a particular style of hollowed-out production across the album. It's characterized by chilly, dense electro-acoustic backbeats — which sometimes come off like a junkyard drum circle — and a very limited instrumental palette. There's no warm center to these beats, no rich synth pads or slowly building layers, just stark loops played out. But they never become boring. It's remarkable that Staples was able to corral complimentary sounds from such a diverse team of producers — from Cali G-funk wizard DJ Dahi, to Chicago's East Coast-minded No I.D., to cloud-rap innovator Clams Casino.
Some of Summertime's best tracks — see "Norf Norf" and "Get Paid" — are collisions of sensibilities, newfangled West Coast gangsta rap in the YG vein, part glitchy electronic music, and other sub varieties of alternative hip-hop. Many of these songs traverse the line separating heavy trap-rap sonics from bleak industrial and post-punk music. So though in its understated, consternated, and "conscious" quality Summertime feels like a '90s rap album, the music itself does not bear out this thesis.
Few are arguing that Summertime '06 is the album of the year, though for some it came close. The record just doesn't draw attention to itself enough stylistically. Vince is less a super-distinctive MC on it, despite his pointed and often poignant observations. On chant-and-sing-along tracks like "Lemme Know" or even "Birds and Bees," he feels more like another member of the band, or a bandleader, than the distinct focal point.
Also it's hard to call Summertime a zeitgeist album, as it's still a record mostly disseminated and beloved by wholesale music nerds and rap fans. It only hit #39 on the Hot 200 and didn't spawn any charting singles. Kendrick Lamar's universally acclaimed album To Pimp a Butterfly — which topped the charts, and features a couple of charting singles, included Grammy-nominated "Alright" — holds these distinctions, and is both more stylistically ambitious and overtly political.
For these reasons and more, it's hard to confidently claim Summertime '06 as the album of the year. Perhaps for some, it doesn't sufficiently plumb the emotional depths. For some, maybe Vince's cut-up online antics dull its charge, or at least caused them to gravitate more toward records like TPAB that hold more of a mystique.
But in terms of sheer integrity of musical structure, lyrical sentiment, overall songwriting, and control, nothing holds together quite as well as Summertime. Future's DS2 and Young Thug's Barter 6 come close, and are certainly close behind Summertime as examples of vanguard, sonically unified full-length rap releases, but they all have aberrant moments. There are pretty much no out-and-out missteps on Summertime. Moments that feel weaker or lower-stakes on the album — say, "Summertime" — can become highlights after extended listening.
I can only hope that the audience for Vince's album will continue to snowball over time — that we won't leave the initial hype behind in 2015. It may not have made the impact of some of the rap albums that are getting placed above it on year-end lists, or even feel definitively like a #1 contender. But you'd be hard-pressed to name a more perfect record that came out this year. Summertime '06 is worthy, at least, of settling into the status of a cult classic.