Vince Staples on Quitting Rap, Doing More Rap, and 'Lyrical' Rap
"If the song has lyrics, it's fucking lyrical."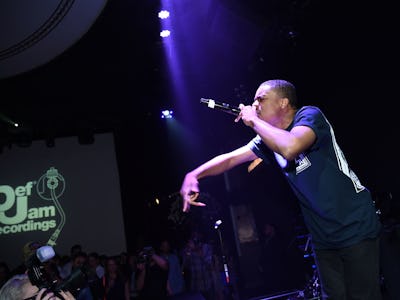 Ilya S. Savenok/Getty Images for Def Jam
Long Beach rapper Vince Staples could make headlines in his sleep. During every interview he gives, he seems to say something that upsets hip-hop traditionalists and either excites or worries his fanbase. Recently, in Staples World, he's nonchalantly suggested that he could end his career within just a few short years.
Staples is just 22 and scored a critical hit with his Def Jam debut album Summertime '06. Nobody wants him to stop rapping, but Staples has other ideas. In an interview with The California Sunday Magazine he said:
"You're out of your goddamn mind if you think I'm going to be doing this music shit for more than two more years. And let me really get some money? If I get some in the next six months, you never see me again."
This isn't the first time Staples has been asked about his future. Earlier this year, he spoke with Stereogum and said on the matter:
"I can't do this forever. If I'm speaking for a generation and I'm trying to get my point across to the youth about what I've been through, then what does that mean when I'm 40 years old, 45 years old, and I haven't done that already? Then I failed. Because I don't want the fame, the attention, or the notoriety; I want to have an impact on where I come from."
It's the same result — ending his musical career relatively prematurely — but with a different motivation.
Well, Consequence of Sound, which named him Rookie of the Year, asked him, "What's next?" and he gave a third answer:
"We're working. We're constantly working. Constantly trying to get things done, and we're just going to go out here and perform this music and try to get it as heard as possible, and hopefully we'll introduce ourselves to some more people. Hopefully they're ready for the next record. We plan on being here for a minute, so we're going to keep it going."
The CoS interview is likelier the truer of the two new ones, especially given that Def Jam is not likely to want its talented rising star to fizzle out so fast. But the contradiction speaks to Staples' disregard for the traditional path and the media.
In addition to putting out his own career-ending fire in the CoS interview, Staples decided to take more jabs at rap purists. Earlier this fall, he told Time that 1990s rap is overrated.
Here, Staples debunks the term "lyrical," one of his favorite causes:
"I think that the word 'lyrical' is the most offensive thing you can say [about a rapper]. If the song has lyrics, it's fucking lyrical. 2 Chainz and Plies went to college; I dropped out of high school. Are they smarter than me because of that? Am I smarter than them because of the way the music sounds? It's just not fair. We gotta stop that."
He continues:
"Music is music, bro. Joey Bada$$ gets some of the craziest reviews ever, and he is the epitome of what people mean when they say those words, and people love him and his album sold very well, and that's a very good friend of mine, and I don't feel like there's much of a — he loves Lil Herb! They have songs together. So what's the difference? It's all music, man. Let's stop segregating everything."
Staples makes an incisive point here. "Lyrical" is often used as an arbitrary way of pumping up lesser rappers who are excessively wordy or discrediting ones whose songs succeed without overwrought verbiage. In the end, a song is more than just the words on the lyric sheet and trying to justify that his music is better than others' only because of how well he raps is narrow-minded and reductive.
When Staples isn't setting social media ablaze with his quotes on record, he's on Twitter.
This week, he tweeted about Kobe Bryant who announced he'll retire after this season by writing a poem called "Dear Basketball" for The Players Tribune.
But he also calls Bryant out for his 2003 sexual assault allegations.
And then mourns the Los Angeles Lakers' loss (he's a Clippers fan, for what it's worth) to the previously winless Philadelphia 76ers.
These tweets, just days apart, reflect Staples' overall Twitter presence. He's not purposefully jokey, but he's hilarious and prods at touchy subjects seemingly for the hell of it. For example, he tweeted "Fuck the Pilgrims" on Thanksgiving, and has not revisited the thought. He probably meant it, and even if it's not a particularly unique thought — see the pilgrim refugee meme that made the rounds on your Facebook Timeline — it's still something that'll enrage some for being offhanded, possibly careless, and, of course, offensive. But that's generally his style in 140 characters or less.
Still, as he did with his proper interviews, Staples offers another angle: Take what he says at face value. Listen to it, but don't act like it's much more than a passing thought.