7 Things To Know About Vince Staples' "Summertime 06" 
Get to know the hottest rapper coming from California.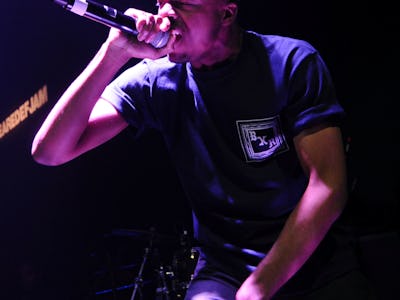 Getty Images
This week over at NPR's First Listen series is an advanced stream of Summertime 06 the Def Jam debut album from Long Beach, California rapper Vince Staples. After last year's well received Shyne Coldchain Vol. 2 and Hell Can Wait, Staples instead of aiming broader delved further into his paranoid and world-weary perspective informed from his hometown of Long Beach. Out officially next week (6/30), we decided to pull out a few details to help provide context for this powerful album.
1. Vince Refuses To Play The Rap Game
Vince keeps his music circle tight. He'll incorporate various singers, but he has no interest in putting a rapper on his record unless it makes sense. Summertime 06 only features two guest rap appearances from Joey Fatts and A$ton Matthews, which both pass by so quickly they could easily be missed. There is a sample of Future's "Covered N Money" that provides the killer hook of "Senorita", but beyond those couple moments when many rap projects overload themselves with guests, Staples' confidence in his own voice is commendable.
2. Vince Found The Correct Way To Do A "Double Album"
Rap double albums are often questionable propositions. Usually because a rap double album isn't like a rock double album which can usually fit onto a single CD, but instead a rap double album will be over two hours of music, which pushes the dedication of even the most passionate fans. Staples instead keeps each disc to a brisk half-hour, which is line with his last two "full length" projects. The brevity allows for an emotional journey without putting a real tax on the a listener's patience.
3. Who is No I.D.?
The former mentor of Kanye West already lived a long musical life before meeting Mr. West or even before becoming a guide for Staples. No I.D. used to be a rapper himself in the 1990s, he produced some of the earliest projects of Chicago rapper Common, worked on a few of Kanye West's biggest hits and right now sits as the Executive Vice President of A&R at Def Jam. For Staples No I.D. has held down most of the production on his last couple of projects and the same holds true for Summertime 06. Even generations apart the sparse, cold production matches well with Vince's solemn, rarely jubilant, rap style.
4. Vince Staples Isn't Afraid To Get Personal
Last year Vince released two songs that really helped bring attention in his direction, the thumping "Blue Suede" and the introspective "Nate". "Suede" was a strong summer single, but "Nate" with lines like "black banana on his air / needle in his hand / momma trying to wake him up / young so I ain't understand why she wouldn't let my daddy sleep" spoke to the direction of Summertime 06. "Birds & Bees", "Summertime" and "Jump Off the Roof" are all tracks where Vince looks back his own life with the same intensity he examined the dark days of his father's.
5. This is the Unfiltered World of Vince Staples
Vince Staples doesn't smoke weed, drink or really enjoy partying. He states this with such matter of factness that one wouldn't ever believe that these could've been an option in his life. But coming from a California, which usually glamorise that lifestyle if in the coded form of Kendrick Lamar's critical "Swimming Pools", it is a notable choice that Vince shuns entertaining such vices. Instead of escaping the streets to go find a party, he falls deeper into thoughts about what's gotten his home and many places like it in this situation.
6. He Made a Different Kind of California Rap Album
In interviews Vince Staples makes it that there are certain images of the west coast that he doesn't fuck with. The kind of stereotypes that go back to Dr. Dre and Snoop Dogg's "Nuthin But A G Thing" and were perpetuated by The Game a decade ago isn't the world he grew up in. Long Beach for him was not a world of low-riders and gangster glamour. Where Kendrick Lamar and YG's recent major album felt a part of the same Los Angeles, Vince in Long Beach appears off on his own planet.
7. Vince Staples Is An Intense NBA Fan
Though not as explicit on this album, Vince loves the NBA. His hometown roots of Long Beach didn't much connect him to the Los Angeles Lakers — he doesn't like Kobe — or the Clippers — he really doesn't like Chris Paul.
But even without a favorite team his knowledge of the NBA runs deep enough and certainly justifies his many tweets directed at weak-ass TV NBA commentators.