Vince Staple's Young Dro Infatuation
How Young Dro informed the Long Beach rapper's new album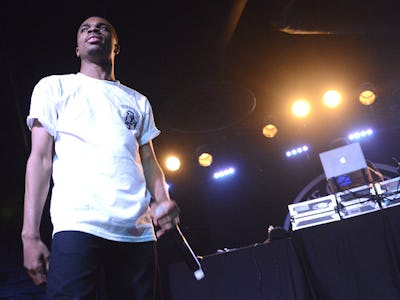 Tim Mosenfelder via Getty Images
Vince Staples is preparing to release his debut full-length album, Summertime '06. The album, out June 30 via Def Jam, follows last year's breakout EP, Hell Can Wait. Staples excels as an MC who can write a diss track as easily as a confessional, working in personal details that often veer toward tragedy. But Staples keeps his verses broad, too, inserting just enough of his own life to increase his credibility without alienating the listener with minutiae. He also has a knack for hooks, making even the hardest song accessible at first listen, encouraging you to dig deeper and deeper with each replay.
Staples was born and raised in Long Beach, California. Summertime '06, though, refers to the time he spent in Atlanta as a teenager. In his time in Atlanta, Staples likely found his biggest and most unlikely influence: Young Dro. Staples is on record saying that Young Dro was one of his favorites during his formative years. He dropped a hint on Hell Can Wait's "Fire," rapping, "Feelin' like Young Dro, summertime '06." He even dresses like Dro. Dro's influence really shows in Staples's ability to make a song that's both hard-nosed hip-hop and pop.
Young Dro peaked in 2006 when Staples was 13 years old. His album Best Thang Smokin' reached No. 3 on the Billboard 200, and produced the irresistible single "Shoulder Lean", featuring T.I. Best Thang Smokin' showcases Dro's gruff, no-frills rapping over highly manicured beats. Most tracks feature slapping drums, a high keyboard line, and a honking bass-line. On Summertime '06's lead single, "Señorita," producers Christian Rich update the formula for 2015. The trap-style drums rollick and the keyboards become more sparse and menacing higher in the track.
Staples is a better lyricist than Dro ever was, but he is certainly indebted to his predecessor. From Dro, Staples learned lyrical concision. Dro never took his braggadocio to obscene levels, Staples, in turn, keeps his bars true to his lived experiences. Vince Staples has learned a lot since 2006, but his time spent listening to Young Dro in Atlanta sticks with him to this day.