First British Astronaut Launches Into Space, Nation Rejoices
The up-and-coming island nation reached a big milestone today.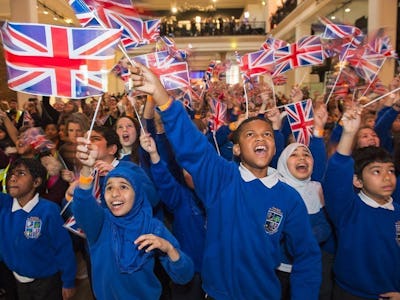 European Space Agency; Twitter
It's official. Great Britain now has one of its own in outer space.
Timothy Peake, the first Briton without dual-American citizenship or a private contract, launched into space aboard a Soyuz rocket at about 6 a.m. EST.
Peake, who was selected for the European Space Agency's 2010 class of astronauts, as well as NASA astronaut Colonel Tim Kopra and Russian Yuri Malenchenko, left the launchpad in Kazakhstan to begin a six-month mission on the International Space Station.
The people of Great Britain have been following news of Peake's voyage closely, so it came as quite a relief when they received the first images of their pioneer in orbit.
NASA astronaut Scott Kelly, who is spending a year in space but has been alone on the ISS since last week when three other astronauts returned to Earth, is clearly excited about the company.
The ESA is calling Peake's mission to space, Principia, in honor of his home country's most famous physicist, Isaac Newton, whose opus Philosophiae Naturalis Principia Mathematica lays out most of what we consider the bedrock principles of physics. And all Tim had to do was sign his name on a wall.
Luckily, the launch went off without a hitch.
And Tim Peake is in the — British — history books.