Astronauts Return to Earth After 141-Day Mission
During their time in space, they conducted scientific tests and managed to grow fresh lettuce.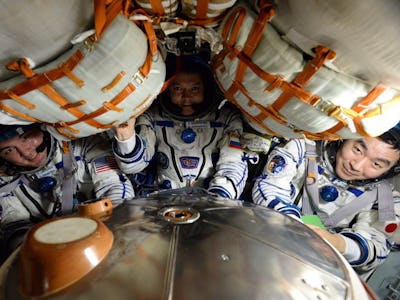 NASA
Three astronauts are safely home on planet Earth after tours on the International Space Station.
Scott Kelly, the American astronaut living on the ISS for a full year, bid farewell to his colleagues as the Soyuz capsule carrying them drifted off to prepare for descent:
Kelly also paid homage to the moment Kjell and Kimiya came aboard the space station as mere "baby birds."
Kjell Lindgren, the only NASA astronaut of the bunch, also posted a goodbye message after completing his first 141-day mission.
NASA joined in the reminiscences as well.
Dropping out of orbit and plunging back into Earth's atmosphere at speeds that would crisp a human a thousand times over is always unsettling.
But we're happy to report that everything went as planned
And the space travelers are happy to be home.
And the new team is already counting down the days until next launch. Soyuz Commander Yuri Malenchenko of the Russian Federal Space Agency, NASA Flight Engineer Tim Kopra and Flight Engineer Tim Peake of the European Space Agency will depart from the Soyuz