'Doctor Strange' Movie Enlists 'Sinister' Screenwriter C. Robert Cargill
Cargill also wrote under the pseudonym "Massawyrm" for the  infamous geek website 'Ain't It Cool News.'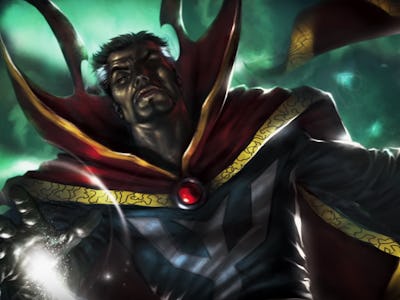 On the heels of last week's production featurette](https://www.inverse.com/article/8961-doctor-strange-movie-concept-art-and-details-revealed) and production announcement about Marvel's new Benedict Cumberbatch-starring Phase Three movie Doctor Stranger comes the news that a beloved internet geek writer has been secretly co-writing the script for the past year.
Former Ain't It Cool News writer C. Robert Cargill, better known to AICN fans as Massawyrm, just announced on Twitter that he has teamed with Doctor Strange director Scott Derrickson to write the final draft of the script.
Screenwriters Thomas Dean Donnelly and Joshua Oppenheimer contributed an early draft while Prometheus scribe Jon Spaights recently provided rewrites. Cargill steps in as a co-screenwriter on the newest Marvel hero to be introduced into the Marvel Cinematic Universe.
Despite his online notoriety, and his recent foray into writing fantasy novels, Cargill isn't exactly a newcomer to the filmmaking game. In fact, he co-wrote Derrickson's film Sinister and the pair collaborated on the script to the sequel. They wrote a feature adaptation of the video game Deus Ex and also a bigscreen version of the TV shows *The Outer Limits, both of which remain unmade. So, in retrospect, it's no surprise these two teamed up again for what will undoubtedly be the biggest movies of their careers.
Not to paraphrase and mix up the Star Wars and Marvel franchises (they're both Disney, after all), but where Cargill was once as the learner, he is now the master, which can't be said about every internet writer. Cargill had a long history of skewering comic book movies in the patented AICN way, and many of his reviews are still up on their site.
He's covered everything from DC movies like Watchmen and The Dark Knight, to some Marvel-related clunkers like Fantastic Four: Rise of the Silver Surfer and X-Men: The Last Stand.
Thankfully for Cargill, when he reviewed the 2008 MCU movie The Incredible Hulk, he gushed over how good it was. That would have been an awkward interview for the Doctor Strange gig had he lampooned what is largely seen as the worst Marvel movie of the bunch.
We'll see if Cargill can parlay that internet love of comics into bona fide big screen success when Doctor Strange hits theaters on November 4, 2016.