The Poster for 'Kubo and the Two Strings' Looks Epic
The poster promises a grand, gorgeous adventure in a fantastical Japan.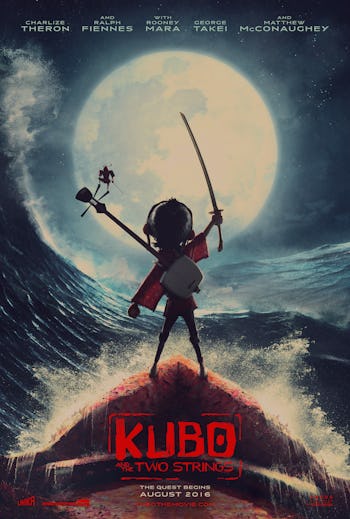 LAIKA
Oregon-based animation studio LAIKA, the makers of Coraline and The Boxtrolls, has unveiled its next stop-motion and 3D animated movie, Kubo and the Two Strings.
The Japanese-inspired fantasy finds young whippersnapper Kubo embarking on a quest to find the armor of his father — the most powerful samurai ever known — to protect his family from a vengeful demon. Kubo is armed with an enchanted shamisen, so you should expect a totally hypnotic soundtrack.
The film is loaded with an A-list cast: Charlize Theron, Ralph Fiennes, Rooney Mara, Star Trek alum George Takei, Matthew McConaughey, and Man in the High Castle's Cary-Hiroyuki Tagawa. Art Parkinson, who plays a young Rickon Stark in Game of Thrones, stars as Kubo.
The full poster is below.
On the same day a really loud Ninja Turtles 2 trailer hit, it's nice to see a studio like LAIKA give us a glimpse that animation can still be used for good.