'Crouching Tiger, Hidden Dragon' 2 Trailer Is Grand, Epic, and Totally Implausible
Yuen-wo Ping returns to form in the trailer for the 'Crouching Tiger, Hidden Dragon' sequel, 'Sword of Destiny.'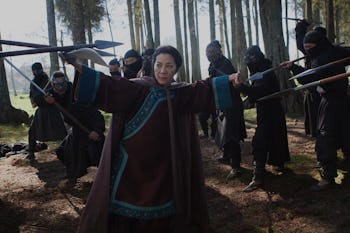 Rico Torres for Netflix
It will have been almost sixteen years since the first Crouching Tiger, Hidden Dragon when its sequel, Sword of Destiny debuts on Netflix and in IMAX Theaters on February 26, 2016.
From the Comic-Con Experience floor in Brazil, the trailer has arrived:
Sporting an unusual '80s techno soundtrack (Is that Kravinsky?), Sword of Destiny shows all the wire-fu and wuxia you can expect from the original Crouching Tiger brought to international attention back in 2000. The film stars Michelle Yeoh, Rogue One: A Star Wars Story star Donnie Yen, and Jason Scott Lee, all of whom duke it out the most in the trailer.
While The Raid and the Netflix-exclusive Daredevil show an affinity toward realistic, or anti-wire martial arts, it's glorious to still to see grand, epic, and totally implausible kung-fu in movies.
Sword of Destiny is actually based on the final novel in Wang Dulu's Iron Crane books, Iron Knight, Silver Vase. The original Crouching Tiger, directed by Ang Lee, was based on the fourth novel of the series of the same name. Sword of Destiny is helmed by renowned choreographer Yuen Wo-ping, who directed the mind-blowing action in The Matrix and Kill Bill.
Here's the trailer for the original film, released on December 8, 2000: