Here's How BMW and Porsche Plan to Beat Tesla
Both Porsche and BMW have plans for electric and even self-driving cars, and are calling out Tesla before they hit the market. 
by Sam Blum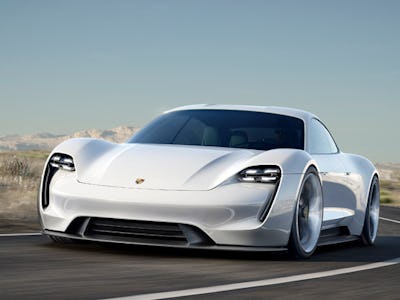 Porsche Motors 
The future of automotive technology won't be dictated only by the experiments and blue-sky ideas of Elon Musk.
Automakers in Germany know this, and intend to disrupt whatever perceived control the Tesla CEO has in the electric vehicle game.
On Friday, Porsche OK'd production on its first "100 percent electrically powered" vehicle, while earlier in the month, BMW chief Harald Krüger criticized Tesla's autopilot feature, saying that his company will unveil superior autonomous driving tech when its plans are fully hatched.
While competition is something that Musk welcomes, he can't be especially thrilled about Krüger taking rhetorical jabs at Tesla's autopilot software.
Krüger's disdain might be somewhat plausable from a competitor playing catch-up — especially so when examining Autopilot's somewhat tenuous, albeit positive beginnings — but he believes that BMW will develop self-driving technology, and roll it out more seamlessly than Tesla — which has come in for criticism as well as "life-saving" praise.
Speaking with German website Handelsblatt, Krüger likened Tesla to a player in the "app-industry," which it is not:
"In the app industry, you can launch products on the market that are 70 to 80 percent ready and then complete their development with the customer. That is absolutely impossible with safety features in a car.
Autopilot is still in its beta-phase, adapting steadily as more Teslas dot highways across the world. Krüger claims that BMW's rebuttal to autopilot won't follow a similar trajectory, though, noting that "our technology must be 100 percent reliable," before it hits the market.
BMW released the its own electric vehicle, the i3, in 2013, and the company's BMW 7 series maintains a self-parking function.
Porsche also poses a threat to Tesla, and announced Friday it would start production on its large-scale EV project called Mission E. Porsche executives weren't quick to fling any barbs in Tesla's direction, although they're touting the Mission E prototype vehicle, in addition to the company's new Factory 4.0 — which will extend production on electric motors following a 700 million Euro investment — as the "dawn of a new age."
Porsche extolled the Mission E's specs in a press release on Friday:
"In concept form, the four-door car with four individual seats has a system power output of over 600 hp (440 kW). The vehicle thus is expected to achieve both acceleration of 0 to 100 km/h in under 3.5 seconds with a planned maximum range of more than 500 kilometers. When charged using an 800-volt charger unit which is planned to be specially developed for the car, which is twice as powerful as today's quick-charge systems, the lithium-ion batteries integrated within the vehicle floor could be recharged to the 80 percent level after just 15 minutes."
Both BMW and Porsche will enter the EV fray with a decidedly trusted brand and legacy of customer satisfaction, but they'll likely be scrambling to match what Tesla has already cemented for itself: The company unveiled the size and scope of its gargantuan production facility — the Gigafactory — last month, and hopes to be producing 500,000 vehicles by 2020.
German automakers will also have the arduous task of overshadowing the glut of nearly 1,000 Tesla chargers already lining highways across the United States.