Penis Transplants Planned for U.S. Soldiers Injured in Combat
Only two other attempts -- in China and South Africa -- have been recorded in medical journals.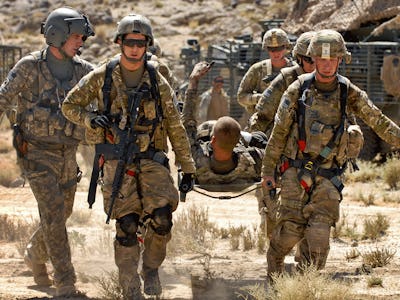 Only one successful penis transplant has been recorded in medical journals, but a veteran of the war in Afghanistan could be the first American to undergo the procedure.
If all goes well, the anonymous patient will be able to urinate and have sex in a matter of months.
A team of three doctors at Johns Hopkins University School of Medicine in Baltimore will perform the surgery, which is still at the experimental stage. Just two other attempts, a failed one in China in 2006 and a successful operation in 2014 in South Africa, have been recorded in medical journals, reports the New York Times.
Doctors will use a microscope to connect arteries, veins, and nerves from from the patient to the donor penis. The patient, who suffered the genitourinary injury as a result of a bomb blast while on duty in Afghanistan — has testicles in tact.
"Some [patients] hope to father children," Dr. W.P. Andrew Lee told the Times. "I think that is a realistic goal." Lee will be joined by Dr. Richard J. Redett and Dr. Gerald Brandacher during the procedure.
Could penis transplants for genitourinary injuries become a medical norm in the future? Johns Hopkins has given the doctors permission to perform 60 of the experimental surgeries (all patients will closely monitored after the procedures) at first. And for the time being, the surgery is only be offered to men who have lost their penis in combat:
"Once this becomes public and there's some sense that this is successful and a good therapy, there will be all sorts of questions about whether you will do it for gender reassignment," said Dr. Jeffrey Kahn, a bioethicist at Johns Hopkins. "What do you say to the donor? A 23-year-old wounded in the line of duty has a very different sound than somebody who is seeking gender reassignment."
The operation lasts about 12 hours and the patient will have to take anti-rejection drugs for the rest of his life. There are risks involved, but patients who have received other exterior transplants — such as hands — immediately tell doctors they feel whole again.
See also: Face Transplant Surgeon Says Successful Procedure 'Offers a Great Deal of Hope