Face Transplant Surgeon Says Successful Procedure 'Offers a Great Deal of Hope'
Patrick Hardison now has a new face, scalp, ears, ear canals, nose, and selected portions of bone from the chin, cheeks.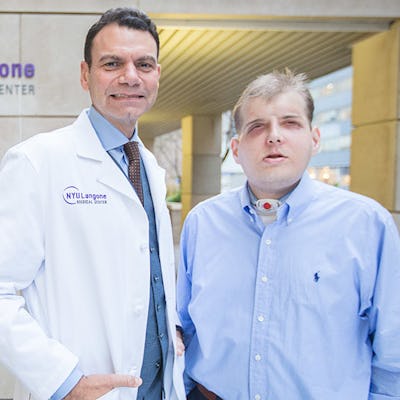 NYU Langone
In September of 2001, Patrick Hardison entered a burning home. A first responder based in Mississippi, he was on a rescue mission when the roof on the house collapsed and changed his life. He lost his eyelids, ears, lips, most of his nose, and hair in the accident while his entire face, head, neck, and upper torso became disfigured by burns.
After undergoing more than 70 previous surgeries, Hardison was referred to renown surgeon Dr. Eduardo Rodriguez. Today, at the age of 41, he is declared the recipient of the most complex and comprehensive face transplant in history.
It was a very long road: After more than a year of preparation and a surgery that lasted 26 hours, Hardison now has a new face, scalp, ears, ear canals, nose, and selected portions of bone from the chin, cheeks. An unprecedented achievement, he also was able to receive new eyelids and muscles that control blinking. Previously, Hardison could not close his eyes completely.
"The ability to transplant functional eyelids is a huge accomplishment, and that will probably open up the door to a number of patients that have compromised vision and that may require this type of procedure," says Dr. Rodriguez to Inverse. "I'm not aware of a previous patient that's received functional eyelids with normal vision, both upper and lower."
"This offers a great deal of hope to patients in this position."
The surgical process of the face transplant was divided into three portions:
First, surgery performed on the donor recovered and removed facial tissues.
Secondly, the recipient underwent a surgery to remove injured facial tissue.
Finally, the actual transfer of the donor face to the recipient occurred.
The amount of tissue that was transplanted through this surgery, which was announced by NYU Langone as a success this Monday, also vastly exceeds any transplant that has previously been preformed.
"Most face transplants have maybe included a small portion of the scalp," says Rodriguez. "Why this transplant is different than the last transplant I performed, which was also extensive, is that it is uniquely extensive . . . This case is different because it has more soft tissue, it has more skin, including the entire scalp and the ears and the tissue around the neck."
Rodriguez performed what was then considered the most comprehensive face transplant back in 2012. The first partial face transplant took place in France in 2005, while the first full face transplant was performed in Spain in 2010.
Hardison's journey to his new face was long and rigorous. After first meeting with Rodriguez, he began to be evaluated for the transplant.
"The evaluation is a very methodical and involves many people and many experts," says Rodriguez. "It first begins with my evaluation in finding the limitations of what can be done with conventional surgery. During that time, we begin to talk about the potential for face transplantation."
As a patient Hardison was interviewed by all members of NYU's face transplant program — not just surgeons but also clinical psychologists, social workers, substance abuse psychiatrist, transplant immunologists, cardiologists, and pulmonologists. Rodriguez says that they are very, very careful with how they select a patient; after the patient is vetted the members of the program vote as a group and if the patient passes they are put on a list for donation. Once on this list, the patient is required to come in for monthly evaluations while the team waits for the identification of a donor.
Over 100 people are involved throughout the process from primary evaluation to recovery — ranging from the groups of nursing staff and technicians who work throughout the
"We also have a very strong psychology group that goes to evaluate the patient in the field — in other words, the home town — to determine the amount of support in the community, physician support and pharmacy support," says Rodriguez.
Now that Hardison's transplant has been declared successful, Rodriguez and his team are ready to plan for future procedures. They want to grow the program's clinical, education and research efforts, such as improving immune surveillance and designing patient specific targeted immune therapies. Much like people who receive donor organs, recipients of face transplants face the risk that their body will reject the foreign part, thus forcing them to take immunosuppressant drugs for the rest of their life.
New standards of care have emerged from Hardison's surgery, which Rodriguez believes will act as a blueprint for future procedures.
"This is not for everyone [not all patients], and this is only going to occur at institutions that have the appropriate expertise and support to be successful," says Rodriguez. "What we've learned with medicine and surgical techniques has improved dramatically, even from the last procedure that I performed three years ago. We've continued to improve and the ability to transplant this amount of tissue can be done safely.
"No parent should ever go through the pain of losing a child," said his mother, Nancy Millar, in a press release from organ donation foundation LiveOnNY. "But we felt that perhaps something good could come from something so tragic."
As for Hardison, he is filled with immense thankfulness.
"I am deeply grateful to my donor and his family," said Hardison in a statement to NYU Langone.
"I hope they see in me the goodness of their decision."