Pluto: Here Are the Sharpest Photos Yet
NASA has released a sequence of super-high resolution images that put us within kissing distance.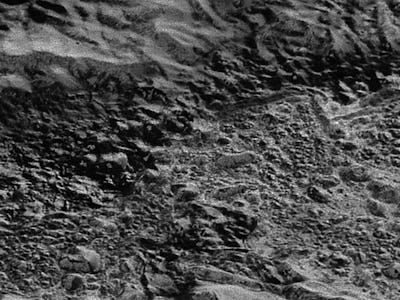 NASA
On Friday night, NASA released the sharpest images we've ever seen of the surface of Pluto, captured during a flyby back on July 14 by the New Horizons space probe.
In the video below, you can see cratered, mountainous, and glacial terrains from the surface of the planet that's 4.67 billion miles from earth. The video was put together based on a series of images captured by the telescopic Long Range Reconnaissance Imager, forming a long strip that's 50 miles wide, and revealing features on the surface that go as small as half a city block.
The New Horizons probe got within 10,000 feet of Pluto on its closest approach to the dwarf planet, and these images were captured just before it got within kissing distance.
It's been the best year ever for images from Pluto, thanks to New Horizons, and while the planet doesn't have the Hollywood flair of Mars, it's been looking really good in 2015: On July 10, we saw Pluto's moon Charon. A few months later, in September, NASA released some ridiculously awesome photos of Pluto. In October, Charon came back in the spotlight as we got some poster-worthy photos of the Plutonian moon. Later in October, even more images showed Pluto's massive craters (and potential for ice).
It's all thanks to New Horizons, which left Earth in January 2006.
Here's the full sequence of images — this is just the first set, too. NASA is already preparing the next batch of images from Pluto.