Google Under Fire for Allegedly Collecting Data on Students Using Its Products
The Electronic Frontier Foundation alleges that Google tracks student data on its apps used in schools.
by Sam Blum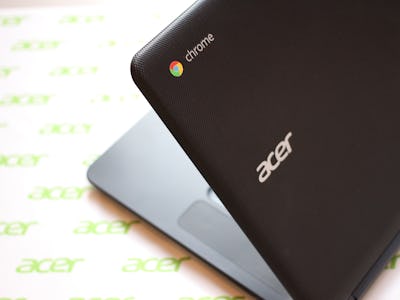 Maurizio Pesce/Flickr Creative Commons
Google is silently collecting data from public school students across the country, and allegedly baking all those digital decisions into its massive advertising scheme — according to a lawsuit filed by the Electronic Frontier Foundation this week.
The complaint, which queries the Federal Trade Commission to investigate Google, alleges that the company collected non-educational information from students on Chromebook laptops and Google Apps for Education — a suite that includes Gmail, Google Docs, Calendar, and more — which are widely used in public schools.
While previous coverage of the suit focuses on Chrome Sync — a function automatically enabled in Google Chromebooks that feeds student data to the company's servers, Nate Cardozo, an attorney for the EFF, tells Inverse that's just the tip of the proverbial iceberg.
In truth, students are being tracked in other, more clandestine ways.
"Sync is actually our secondary concern," Cardozo says.
"The first claim that we make, which Google has confirmed, is that if a student is logged in to Google, using their GAFE account, it doesn't matter what browser they're using, it doesn't matter if Chrome Sync is off. They browse around to Google sites outside of the core apps for education, Google collects their browsing history, their search terms, what videos on YouTube they were watching and what post on Blogger they're reading, what places they're searching for and going to on Google Maps."
"Google is recording all of that, associating it with their educational account, and using it in some contexts to serve targeted ads," he says.
Cardozo also explains that Google has willingly admitted to the collection of private student data. He says that it took "months and months" of badgering the tech giant via phone calls for it to divulge its surveillance-like practice.
"We have an excellent working relationship in other contexts with Google, so we called up our contacts there and asked them, and it took months and months to get straight answers out of them," Cardozo says.
In this case, the EFF alleges that Google's data collection defies the Student Privacy Pledge, an agreement signed by over 200 companies, including Microsoft, meant to "safeguard student privacy regarding the collection, maintenance" and use of their personal information.
Under the auspices of the Student Privacy Pledge, Google is allowed to monitor student activity under its core education apps — namely those under the umbrella of its GAFE services — to improve the scope of its educational initiatives.
Google has denied that it's breached its allegiance to the pledge, however.
Writing in a blogpost, Google Apps for Education director Jonathan Rochelle wrote on Tuesday:
"Schools can control whether students or teachers can use additional Google consumer services — like YouTube, Maps, and Blogger — with their GAFE accounts. We are committed to ensuring that K-12 student personal information is not used to target ads in these services, and in some cases we show no ads at all."
Cardozo isn't convinced of Google's posturing, though. He says that "the privacy pledge doesn't just say that Google is promising not to use the personal information that students give them, but that Google has promised not to collect it in the first place."
Moving forward, the EFF isn't hoping to prompt a complete reversal in Google's protocol, but that the company might champion the use of consent when it comes to monitoring the online activity of students —or in other words — ask for parental permission.
For Google "to be congruent with the Student Privacy Pledge," Cardozo says, "all they have to do is ask."