Watch Blue Origin Engineers Go Nuts When Their New Shepard Rocket Lands
This video uploaded by Blue Origin captures the moment.
by Sam Blum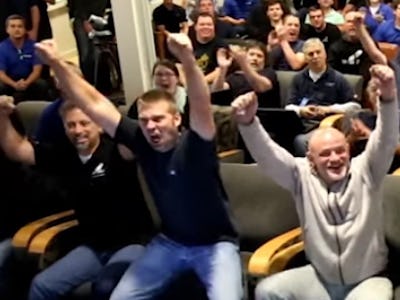 YouTube
As Blue Origin's New Shepard rocket descended from suborbital space toward a landing site in the West Texas desert on November 23, some 400 scientists at Jeff Bezos' aerospace company watched a live stream in sheer trepidation.
When New Shepard landed, effectively making aerospace history as the first reusable rocket to make the journey back from space unscathed, the palpable anxiety felt by Blue Origin's scientists turned into unbridled joy.
The whole thing plays out in a video uploaded by Blue Origin to YouTube today.
Keep an eye on the gentleman wearing a black shirt, sitting third from the right on the left-hand side of the screen:
While all scientists wore their hearts, hard work, and vulnerability on their sleeves that day, the guy wearing the black shirt expresses his glee as if he were a battle-hardened warrior of the aerospace tourism business.
He's the only one to throw his arms up in the air like an Olympic weight lifter clinching gold:
His excitement also translated to a spastic, albeit unintentional dance move, which the cameras thoughtfully captured.
Get down:
We can't wait to see what Blue Origin does next — and how this engineer reacts.
Here's the polished landing video posted by Blue Origin that broke the news to the world:
See also:
Elon Musk Is Dismissive as Jeff Bezos's Blue Origin Lands Reusable Rocket
Jeff Bezos and Blue Origin Are Rocket Beefing With Elon Musk and SpaceX