'21 Questions' About 50 Cent's Fox TV Show 'My Friend 50'
The rapper-actor is coming to network television, and it can't come soon enough.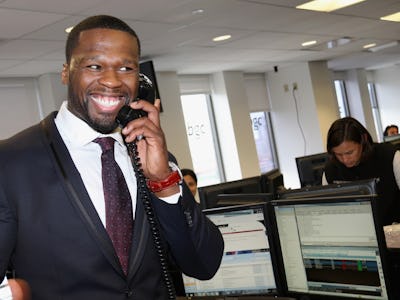 Janette Pellegrini/Getty Images for Cantor Fitzgerald
Curtis "50 Cent" Jackson is increasing his television presence. He's already got a quiet hit in Starz's Power, but he's moving to network TV with the proposed Fox sitcom My Friend 50.
This is exciting news for anybody with human eyes and ears, so in 50 Cent tradition, we feel obliged to ask "21 Questions" — some answerable, some speculative — about the soon-to-be classic.
1. What's it about?
The show will follow Amanda Kramer, "an unstable twentysomething" who wants to join 50's entourage. Apparently, it'll solve all her problems.
2. How often will 50 be on it?
He's an executive producer, so probably whenever he wants. For now, Deadline reports he'll appear occasionally "as a version of himself."
3. I'm concerned about the aesthetics. How will it be shot?
Good question. Single camera, documentary style. Here's the catch: Amanda is the narrator and she is way unreliable!
4. Besides 50, who are the geniuses behind the show?
It's written by Ava Tramer, who's participated on Parks and Recreation, The Office, and The Mindy Project. She's also responsible for TBS' upcoming Angie Tribeca, a Steve and Nancy Carrell-created show that will star Rashida Jones.
5. OK, but how about the money? No way G-Unit isn't involved.
You're right! Will Packer (who executive produced Straight Outta Compton and his Will Packer Productions are backing it, but so is 50's G-Unit Film & Television, as well as Universal Television.
6. I want to see this now. How soon will it air?
There is not yet a set date for air. ¯_(ツ)_/¯
7. Fine. Can I still be excited?
8. Shifting back to the storyline, this Amanda character seems to think she can just pop into 50's entourage. I'm assuming this means she'll join G-Unit. Is there precedent for that?
Yes, in fact, there is. Detroit rapper Danny Brown was famously invited to join G-Unit. Unfortunately, 50 was not feeling his skinny jeans, so he never got admission. Said Brown to Mixtape Daily:
"It was a real thing. 50 was with it; he just didn't sign me because of my jeans. He liked the music, but he didn't like the way I looked. I understand where they were coming from with that, but you gotta understand where I'm coming from too: I'm from Detroit."
9. Is 50 Cent officially the Ice Cube of the new millennium?
If he wasn't already, this probably seals the deal. There comes a time in a millennial's life when she learns that Ice Cube was, in fact, a credible rapper in N.W.A. before making movies like Are We There Yet? and Ride Along 2 (actually produced by Packer). 50's filmography isn't quite there yet, but his appearance in this summer's Southpaw was certainly a move toward being more of an actor than a rapper.
But when your kids want to see Ice Age 12 with 50 voicing a friendly turtle, play them Get Rich or Die Tryin' because it was nothing but bangers.
10. Can we skip to Question 21?
Yeah, that's fine.
21. Will this show make it out of its first season?
Probably not, but here's to hoping it will!