The 'Straight Outta Compton' Meme Generator Censors N.W.A.'s Full Name
No parental advisory necessary. Unfortunately.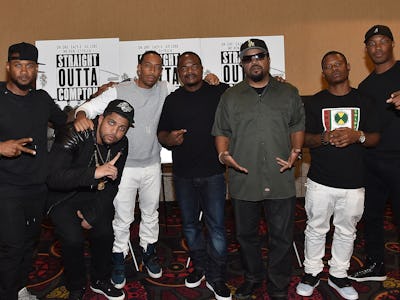 Paras Griffin, Getty Images
The marketing machine of Straight Outta Compton is in full effect right now. Last night was the release of Dr. Dre's much anticipated, Compton: A Soundtrack by Dr. Dre, and in the social media lane they released a meme generator based around "Straight Outta…"
The meme is pretty lighthearted for a movie based on one of the most feared musical groups of the past 50 years, but isn't that just 2015 Internet. Oddly enough though, for a movie based around a group called Niggaz Wit Attitudes, if one were to enter that word or any variations on it, the website will auto-delete the letters. Other allegedly offensive words such as "fuck," "asshole," and various racial slurs, are also auto-deleted. Frankly, it seems strange to censor "nigga," "nigger," "niggaz," or however anyone might spell this particular word when its power is clearly part of what made N.W.A. They weren't Negroz With Attitudes. They were Niggaz. And they went viral as a motherfucker.