The Improbable Fall of 50 Cent
New York's finest declares bankruptcy.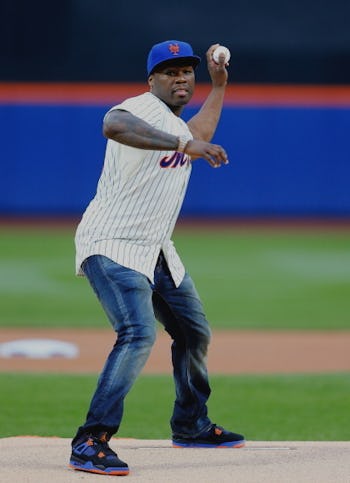 Jim McIsaac / Stringer via Getty Images
If there were ever a time to think Curtis "50 Cent" Jackson had reached rock bottom, it wouldn't be now. Power, the show he produces for Starz, is doing well in its second season, setting ratings records for the network. He has a role in Southpaw, the upcoming not-awful-looking boxing movie that stars well respected actors Jake Gyllenhaal, Forest Whitaker, and Rachel McAdams. He's even planning to put out a new G-Unit album soon.
But, like all good nights in da club, the sun rises, you shake off a hangover, and you declare bankruptcy. According to CNBC, 50's "listed assets and debts [are] in the range of $10 million to $50 million." They really got a dollar out of him. Jackson's bad week, however, actually began last Friday when a judge ruled he must pay Lastonia Leviston $5 million. 50 caused Leviston emotional distress when, in 2009, he uploaded a sex tape of her and her former boyfriend Maurice Murray with 50 inserting his own narration.
This is a remarkable fall for the man who redefined radio rap in the new millennium. 50 was truly on top of the world. His debut album, Get Rich or Die Tryin' went 6x platinum, according to RIAA. He made a movie and a video game about his life. He got an orchestra to play "In Da Club" for a fucking Vitamin Water commercial, and it still goes.
Without a legitimate hit to his name in years, 50's future lies in the executive world, following in the footsteps of his mentor, Dr. Dre. Let's hope that 50 pays off his suit, and this bankruptcy serves as a catalyst toward a fruitful second life behind the scenes.