Frank Miller's 'Dark Knight' Returns, Again | THE PULL LIST
Frank Miller's 'Dark Knight III' is out now in the world, alongside new 'Saga,' 'Darth Vader,' and 'Silk.'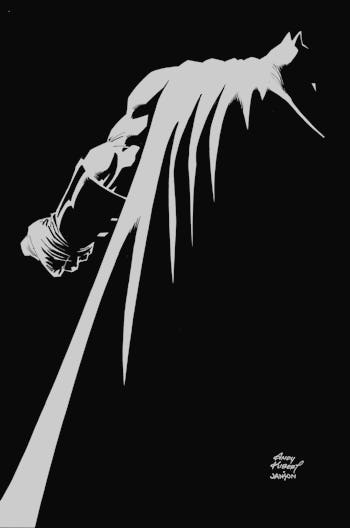 DC Comics
Welcome to The Pull List, Inverse's weekly roundup of new comic book releases worth enjoying. Whether you're a longtime fan or a newbie reader, you can depend on us to help guide you through today's hottest issues that will be tomorrow's classics.
The Dark Knight III: The Master Race #1
It's difficult to encapsulate how divisive the new Dark Knight threequel was building up to (and still might) be. Frank Miller was a revolutionary in the '80s but in recent years his polarizing politics and personality overshadowed his dwindling talent and reputation. But the return of the revolutionary Dark Knight series, much like Miller's aging Batman (and hell, Miller himself) proves some old dogs still have a fight within them.
Saga #31
Easily one of the best ongoing series anybody can pick up right now is Saga from Brian K. Vaughan and Fiona Staples. While the series is starting to grow a little long in the tooth with issue #31, it's a bold new chapter as Marko and Alana have reunited and IV finally embracing fatherhood.
It's just really good to have Saga again.
Darth Vader #13
Even if he's the biggest bad guy in a galaxy far, far away, all good villains believe themselves to be heroes in their heads. That's the heart of Marvel's Darth Vader, taking place after A New Hope and Vader seeking redemption in the eyes of the Emperor. In #13, the second installment of the "Vader Down" arc, Vader confronts the rebels in the first crossover between Marvel's Star Wars titles.
Silk #1 (Vol. 2)
After the events of "Secret Wars," Silk is still looking for her lost family. But the newest hero of the Spider-family takes a walk on the dark side when she finds herself aligned with the criminal Black Cat. Robbie Thompson continues his stellar run with Cindy Moon in the next volume of her adventures.
Ringside #1
Pro wrestling's presence in comic books have run the gamut from being a Saturday morning cartoon (like Triple H turning into a Conan the Barbarian-like warrior) to realistic rags-to-riches tales like the dramatic indie title Headlocked. Image is entering the ring with Ringside, which sets the circus world of pro wrestling through a noir lens. Co-creator Nick Barber said of the series: "As over-the-top as a wrestling match can get, the world outside of the ring can be even more compelling."