How to Join 'Bloodborne's Newest Covenant: The League
 Just who is the man under the bucket and what does he offer?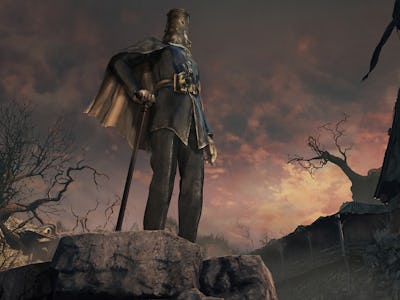 blog.playstation.com
In preparation for Bloodborne's new expansion The Old Hunters next week, a patch was released for the game today. However, 1.07 isn't just a typical 'preparation and fixes' patch — it adds an entirely new covenant known as The League, centered around cooperative gameplay unlike the other three in the game.
Led by Valtr, a mysterious man dressed in confederate garb wearing a bucket, the League encourages players to help each other with Bloodborne's various boss encounters and Chalice Dungeons — rewarding victories with Vermin, which in turn allow you to participate in the covenant's ranking system.
As with the other covenants, the League also features a unique Carryl rune — called Impurity. This rune boosts your max health by 2% when equipped in co-op and allows you to earn vermin by successfully completing cooperative sessions with other players; each of which can be consumed to increase your rank on the League's leaderboard.
When allied with the League, players will also be able to summon new NPC hunters into their game. These old hunters are scattered across several areas throughout the game, including Chalice Dungeons — although you will have to pick up the Elder Summoning Bell in the Hunter's Dream to get their markers to appear. Just like the normal summoning bell for other players, the Elder Summoning Bell will consume insight and you can only have a maximum of 2 NPC hunters with you at a time.
While additional rewards from the League are currently unknown, you can receive a few new lines of dialogue along with a new league gesture and league cane from Valtr after receiving your first vermin. Unfortunately the cane isn't a new weapon, although it's possible one might be added to the covenant when The Old Hunters releases next week, but I wouldn't count on it — FromSoftware seems to have kept the covenants rewards fairly limited in Bloodborne.
If you're interested in joining the League, head over to the Forbidden Woods using the Frontier Headstone and you'll find Valtr in the shack directly to your right. Just remember you have to unlock it from the elevator located around the back, which takes a little bit of work if you haven't cleared the area yet.
If anything, the League should provide you with a little distraction until The Old Hunters DLC drops next week.
The Old Hunters releases November 24 on PlayStation 4.