Get Into the Thanksgiving Spirit With These 5 Movie Dinner Scenes
Seriously, you're gonna want to make a timpano.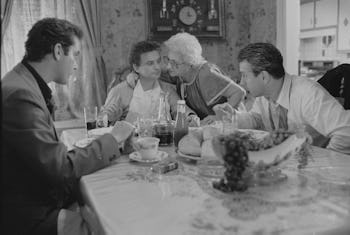 With the annual culinary gorge known as Thanksgiving rolling around this week, this selection of movie scenes should spur you into an apron, or at the very least provide you a fitting post-dinner film selection.
'Big Night' (1996)
Did you know that Stanley Tucci sidelines as a chef and cookbook author? That won't be a surprise if you've seen Big Night. An underseen nineties gem — in which he co-directs and stars — about two Abruzzo brothers and their failing restaurant in New Jersey, Paradise.
Big Night doesn't contain "a dinner scene." It's got an homage to eating which dominates the movie's second and third acts. As the siblings channel their combined cooking prowess into a spread to feed legendary singer Louis Prima, the extended sequence is designed specifically to inspire rumbling bellies. Onions and garlic sizzle away in dented old pans. Cured meats get sliced and diced with the precision of a samurai. Gargantuan platters clatter through the swing doors. And that's just the prep. Where things kick up a notch is the communal experience of feasting.
When a movie takes place in one location the visuals have to be exceptional. In this case the cinematography draws out the expectation and excitement of mealtime. Shots of the brothers frantic in the kitchen clutching at handwritten recipes, cut to their guests, hazily drinking and dancing without a care. Nobody except Primo and Secondo, the brothers, give a hoot that Prima's a no-show. It's unimportant who chose to flake. What is important is celebrating the people who did show up to support them. Besides, everyone's too busy nipping at the digestifs to help that glorious timpano settle to give a toss.
'Beetlejuice' (1988)
Eccentricity reigns supreme for Tim Burton. Theme, character, and plot are guided by the fastest way to crazy possible in most of his movies.Beetlejuice caters to that same predilection. Its final show-stopping number is a perfect example. Dinner and a show, anyone?
The scene in question trumps the impromptu schmaltz-singalong of My Best Friend's Wedding. What starts as a plan to scare off the Deetz's — a family now living in the house once owned by the Maitlands — turns into an orchestra of the surreal. The Maitlands might be dead but what's the afterlife if an opportunity to screw with the living? Sculptor Delia Deetz's haute cuisine dinner for prospective buyers turns into something Dali would've cooked up, blitzed off his tits from chewing hash.
This batty performance of The Banana Boat Song is like taking a hit at Thanksgiving. And then watching your entire family dance the calypso. Catherine O'Hara, who never fails to commit to her performance, kicks it off going full-on method. The hip-jiggle boogie then infects everyone else at the table. Dinner guests are flung around as corporeal puppets for the recently-deceased couple. Prawn tails jiggle and grab heads before slamming them into the table. It might deter you from putting seafood on the menu but could encourage a quick nip of absinthe to spice up any dinnertable lulls.
'Goodfellas' (1990)
Murder and extortion is tiring. I don't know speak from experience, but on the basis of this scene from Martin Scorsese's 1990 mobsterfest, it appears to be the case. Knackered from beating the crap out of snitch Billy Batts, Henry Hill, Jimmy Conway, and Tommy De Vito rock up to Tommy's mother's for a spot of chow.
Choosing between three killer food scenes in one movie is tough. The prison sequence teaches the art of fine garlic slicing, and the last day of Henry's freedom imparts a valuable lesson on how to best monitor meatballs.
They're all terrific, yes, but this one surpasses them. It's the switch. From stuffing a guy into the trunk to sauntering into a home moments later, ready to sit at the table. Killing ain't for everyone, but eating most certainly is. You'd be hard pushed to find someone refuse a plate piled with marinara-drenched carbs, generous gratings of hard cheese and wedges of bread to 'scarpetta' up those homecooked juices.
'Meet the Parents' (2000)
This moment epitomizes the awkwardness of meeting your in-laws for the first time. As modern comedy is wont to do, the scene is an over-the-top depiction of the worst case scenario. Casting Ben Stiller as the unlucky guy really tops this one off. He is an actor who seems most comfortable in front of the camera when he's playing uncomfortable. It works wonders opposite a heavyweight like Robert De Niro, who chews out guys like Stiller as a warm-up before reciting epic dead parent poetry (see above).
After that, no one's remotely interested in the meal. Not after Stiller's "milking a cat" mime kickstarts a chain of events leading to an actual cat peeing on someone's remains. This is not a dinner, this is an interrogation with domestic props.
'American Beauty' (1999)
For a brief spell American Beauty became an object of ridicule. It's that fucking plastic bag 'dancing in the wind' that did it. Playing a heartfelt moment of self-realization with such earnestness caused many to cringe. And then parody it into oblivion. Sixteen years on it's safe to say that initial backlash has subsided. We're now left with a cunning piece of existential mid-life ennui narrated by Kevin Spacey.
You know the story: Lester Burnham's sick of his existence and becomes his own life coach. Buffer, sharper, and higher than before, he gets snappy toward his family over a typical weeknight meal. It echoes an earlier scene in the movie flooded with tiny digs and barbs from his wife and daughter. This time there's an added twist, thanks to Lester's newly-found backbone. "Janie," he explains to his daughter, "today I quit my job. And then I told my boss to go fuck himself, and then I blackmailed him for almost sixty thousand dollars. Pass the asparagus." As his wife (Annette Bening) prattles on, years of pent-up resentment and silence explodes. Lester flings his plate at the wall. A small act of defiance, that works better here than any expositional dialogue could.