Facebook's New, Easy Fundraising Feature Will Put Our Collective 'Slacktivism' to the Test
If donating is easier than ever, will people actually do it?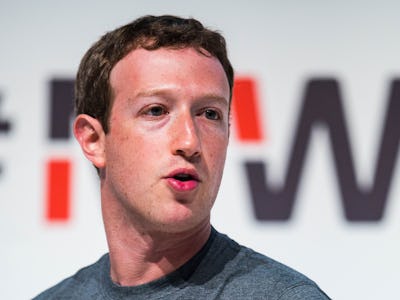 Getty/David Ramos
Facebook, today, announced a new way for nonprofits to raise money.
A fundraising feature and a new "Donate" button will work right from Facebook. Not only do the new innovations signal Facebook's intent to keep users on the site longer, they also put users' own slacktivist tendencie to the test: If donating is easier than ever, will they do it?
Currently, 37 groups, including Mercy Corps, National Multiple Sclerosis Society, and the World Wildlife Fund are utilizing Facebook's new tools. The National Multiple Sclerosis Society, for one, already has a fundraiser going.
Facebook's Vice President of Product Management Naomi Gleit says of the debut: "Including a Donate button on a post will give people an easy way to donate directly from News Feed."
More tellingly, she added, "Both of these buttons will make it easy for supporters to contribute using a one-page form without leaving Facebook."
In addition to the warm, fuzzy feeling of contributing to an NGO, users can also "share that they donated with their friends," Gleit said. That change is very much in line with Facebook's other functions, such as telling your friends you voted on Election Day, or using a lens on your profile photo to show support for the people of Paris.
But while its current slate of activist opportunities allow users to avoid making any significant effort, the Donate button asks for actual money — that is actual effort. Research has shown that Facebook's Election Day "I Voted" button actually increases voter turnout because it indirectly shames non-voters into voting when they see their friends doing it. It's entirely possible that the Donate button will have the same effect. If your best friend just dropped $100 on a good cause and all you did was add a lens, would you feel more obligated to contribute tangibly to something?
Geit says fundraisers and the Donate button will soon be "available to other US-based 501c3 nonprofits." That means, for now, Facebook will not be a free-for-all of projects, like GoFundMe or Kickstarter projects to fund giant, fighting robots.
Will Facebook ever expand to private fundraising? Maybe you're developing the next Game Boy, Facebook would no-doubt be a place you'd go to raise funds.