Watch This Gorgeous Handmade Portable Game System Being Made
If Wes Anderson made a gaming device, this would be it.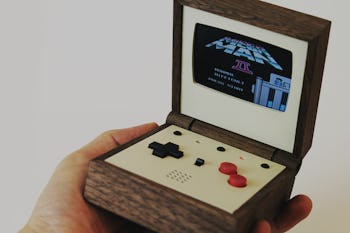 Love Hultén's Pixel Vision Press Kit
Game over, shut it down. We know what we want in our stockings.
Love Hultén's handmade portable gaming system, Pixel Vision, combines old-school gaming nostalgia with… well, old-school materials to make the most lumbersexual-friendly gaming system around. (Besides Timber, that is.)
The pocket-sized emulator is crafted from American walnut and runs with Raspberry Pi model A+ and custom-made DAC+ audio chip hardware, and Retroarch software. The console is 95mm x 95mm x 45mm when closed and boasts a 3.5" LCD display, which works out to be just big enough to fit your hands around and just small enough to pop it into your briefcase for stealth gaming between meetings. Speaking of games, there's an 8GB nano USB flash drive to store all your games.
What games? Pixel Vision has the capabilities to emulate these classic gaming systems: Atari 800, 2600, 5200, and 7800; Game Boy, Game Boy Color, and Game Boy Advance; Nintendo and Super Nintendo; Sega Master System and Sega Genesis; and Intellivision. Additionally, there are a few contemporary game makers that are creating NES "homebrew" games that are compatible with Pixel Vision's setup.
So far, the Swedish craftsman/designer/game enthusiast's Kickstarter has raised almost $13,500 in just three days, and we have little doubt that it'll make its goal in the coming weeks. There's a catch though.
Only 500 of these little guys will be made for a super limited run of nostalgic fun that'll set you back a cool $461. There will also be another 20 "Pearl" edition Pixel Visions with solid brass D-pads and buttons, along with a Saturn-shaped mother of pearl veneer for the fanciest gaming device you can imagine (which run $807).
The Kickstarter fundraising period ends on December 13, 2015 — just in time for the holidays — but you'll have to put an IOU in our your special someone's stocking because the production schedule estimates the first batch of 250 Pixel Visions will be shipped out in February.
But hey, enough talk. Let's see one of these being made, from start to glorious finish.
Now, if only you could find enough spare change in the couch cushions to get this bad boy.