It's No Surprise Women Aren't Into the 'Female Viagra' Addyi
You can't drink before taking it? Really?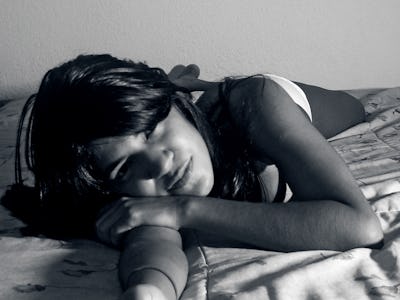 https://www.flickr.com/photos/iloveblue/
The five-year buildup leading to FDA's approval of Addyi — also known as "female Viagra" — has been anticlimactic. Physicians across the United States have had the option to prescribe the libido-boosting drug over the past month, but if prescription rates are any indication, women are simply not interested. But given the drug's wealth of side effects, low efficacy, and restrictions on alcohol, it really isn't that surprising.
Over the past few weeks, only 227 prescriptions for Addyi have been issued.
In contrast, as Bloomberg points out, over half a million patients requested Viagra prescriptions when it was first released in 1998. It's not really a fair comparison: They are two very different drugs. And if patients don't know this going in, they certainly would realize it after a consultation with their doctor.
While Viagra has immediate effects, Addyi is a daily drug — costing $20 to $26 a pill — that's meant to boost a woman's sex drive over time.
It's not especially effective at doing this, either: Clinical trials have shown that only 10 percent of patients find it more helpful than a placebo.
On top of its low effectivity, Addyi can potentially cause serious side effects, such as severely low blood pressure and fainting. Because of these risks, Addyi comes with a strict no-alcohol policy — which, for anyone wanting to perk up their sex life, is a total buzzkill.