California Drought Restrictions Extended Until Halloween 2016
In a new executive order Governor Jerry Brown emphasizes that the drought is very much still happening.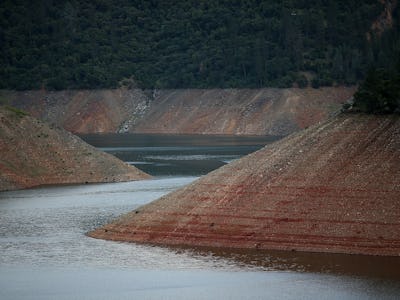 Justin Sullivan/Getty Images
Californians are going to have to be mindful of their water usage for a long, long time. This past Friday Governor Jerry Brown declared an executive order extending state-wide drought restrictions until Halloween 2016. The state is currently in its fifth year of drought, while simultaneously preparing for coming storms and floods driven by El Niño.
The executive order also includes the provision that $5 million of the funds allocated in the Budget Act of 2015 will go toward finding a permanent solution to providing households with cleaner and more reliable water.
While it's predicted that the El Niño will be one of the largest weather systems on record, experts anticipate that whatever storms emerge will not be enough to make up for the past years of drought. This past weekend Folsom Lake sank to the lowest level in its 60-year history. Water agencies currently rely on the reservoir to provide drinking water to approximately 200,000 people.
Brown emphasized that the ongoing drought will bring further stress to California's fish and wildlife. Of particular concern is the state's salmon population. This summer and fall the survival rate of young salmon has been as low as 5 percent — adding stress to the $1.4 billion industry within the state that relies on the survival of the fish.
The state's government looks to take preventative action through this executive order, such as implementing the steps to allocate whatever excess water that's caused by El Niño to underground water basins. The order is also intended to speed up the permit process with the hopes of rebuilding the power plants damaged by the state's extensive wildfires.
While California's government continues to caution residents, that risk of water shortage, drought conditions, and wildlife endangerment are all exacerbated by water wastefulness, some state residents continue to not pull their weight.