Salon Manager Found Dead in Freezing Cryochamber Victim of Asphyxiation 
Family says this raises more questions than it answers.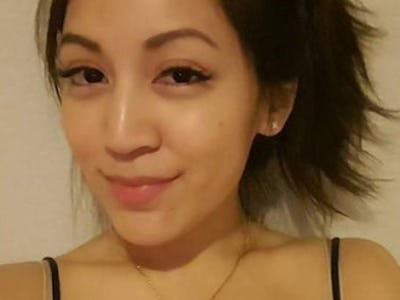 Twitter / NBC KSNV  
Nevada spa manager Chelsea Patricia Ake-Salvacion, 24, was the victim of accidental death of asphyxia caused by low oxygen levels, according to a coroner's report. The Clark County coroner's office said the chambers can bring the level of oxygen in the air down to under 5 percent (normal air contains about 21 percent oxygen) leading to unconsciousness and then death.
Ake-Salvacion's death in late October made national headlines after her body was found in employer Rejuvenice spa's cryotherapy chamber some 10 hours after her demise. The chambers are built to reach temperatures as low as minus-240 degrees Celsius, a degree of cold not even found naturally on Earth. Backers of the technology, which has become popular with athletes and actors, claim benefits include reduced pain and inflammation, "instant anti-aging," and accelerating tissue healing to boosting metabolism. The U.S. Food and Drug Administration has not approved any treatments for medical use.
Because there are no cameras at the spa to record what happened, and as the chambers have safety features to keep users from being locked within, Ake-Salvacion has drawn scrutiny to the industry's practices and safety.
"Accidental death from an oxygen poor environment raises more questions than it answers," read a statement from her family's attorney, Richard Harris. "Chelsea died from breathing poisonous liquid nitrogen produced from a cryotherapy chamber touted for its health benefits."