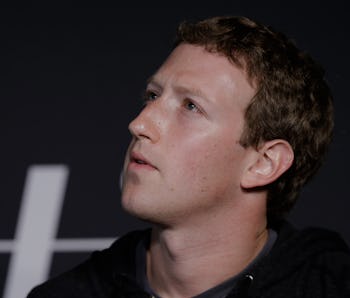 Innovation
Facebook Will Share Revenue With Its Users Who Make Viral Videos
People watch more than 8 billion videos a day on Facebook. It's time to get paid.
Win McNamee/Getty Images
Facebook users watch more videos than ever. On Wednesday, CEO Mark Zuckerberg shared a photo to his personal Facebook page revealing that users view videos eight billion times daily. That goes along with the site's 1.55 billion monthly users and the billion-plus who visit Facebook daily.
Given the platform's success, Zuckerberg has said Facebook plans to share revenue with the video content-creators, announcing in a conference call on the company's Q3 quarterly earnings, "We've recently rolled out the business model for this. We'll give a revenue share on a portion of the views to content owners."
Facebook's video offerings are obviously successful, but the number is slightly skewed by its low bar for "view" qualification. Unlike YouTube, which requires 30 seconds of viewing to register officially, Facebook requires its user to watch a video for just three seconds to count it as a "view." While that looks good, it does not necessarily mean that Facebook's native video content is greater than YouTube's.
Zuckerberg has not clarified exactly whom Facebook will compensate. Videos are constantly being re-uploaded with slight additions — like some brilliant meme text — so crediting the source may not be as easy as it is on YouTube, which has official channels. In addition, Facebook would have to convince major outlets to make their video content Facebook exclusive. YouTube, for now, is the giant in that domain. But YouTube is also moving toward a subscription model while Facebook, of course, remains free. It's not out of the realm of possibility that Facebook becomes the new, more democratic outlet for video content.
At this early stage we can only guess about Facebook's business plan, and more importantly, what it means for everybody who uploads strangely addicting video diary posts while they drive to work. Regardless, it's a positive ambition on Zuckerberg's behalf. And he knows he benefits, too, by having the best videos come to his platform first, saying, "There's a certain class of content which is only going to come onto Facebook if there's a good way to compensate content owners for that."
In the mean time, Facebook has introduced 360-degree video capability, showing off its technological strength with the medium. It'll take more exclusive features like 360 to make Facebook a real force to be reckoned with.