'Star Wars' Actors John Boyega and Daisy Ridley Join Composer John Williams as He Scores Film
An Instagram post from stars John Boyega and Daisy Ridley showed 'Star Wars' music still in progress.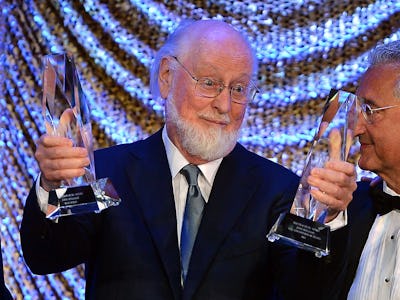 Getty Images
There was a meeting of the minds today when actor John Boyega and Daisy Ridley, who play the lead characters in The Force Awakens, visited composer John Williams as he conducted the score for the upcoming movie. Boyega and Ridley even posted selfies to their Instagram pages to mark the occasion. But wait, isn't the movie landing in just 50 days? It seems the legendary maestro is still putting touches on his next additions to the Star Wars universe.
We obviously don't know how much of the score is finished. When the score was announced last month there wasn't a set tracklist yet, and the pages to pre-order the score on places like Amazon or its official site still just feature basic information about it, like the fact that it (like the movie) will be released on December 18.
We do know that the score to the recent record-breaking trailer wasn't Williams'. Maybe he was too busy writing new cues to catch up?
The score for the final trailer was a split collaboration between a pair of trailer composers named Frederick Lloyd and John Samuel Hanson. Lloyd provided the cues for the latter half of the trailer, while Hanson took the beginning.
But it seems Williams wasn't too busy late last year to record music for the second teaser. Presumably he was just conducting an orchestra that replayed old cues instead of creating any new ones.
Who knows, this may be Williams' last go at scoring a Star Wars movie. Dude is 83, and he's not signed to score the standalone Star Wars movie, Rogue One, next year. Alexandre Desplat, who worked with Rogue One director Gareth Edwards on last year's Godzilla, will write the music to that film.
The news shouldn't be alarming. There's still time to get things in order, and, as we know, one of the most basic teachings of the Jedi is patience. Williams seems to be taking that to heart.