128 Million People Watched the Final Trailer for 'The Force Awakens' in One Day
It broke a record previously held by the movie's second teaser.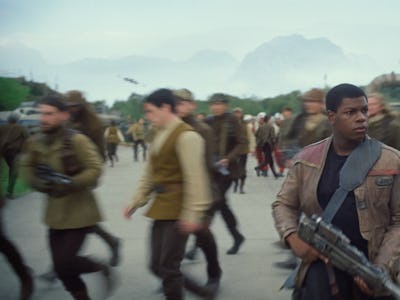 StarWars.com
What a surprise. It turns out people are actually excited to see The Force Awakens. After the final trailer debuted on Monday Night Football ahead of the film's release on December 18, it was viewed by more than 112 million times online within 24 hours.
If we do a little math with the online numbers, plus the 16 million TV viewers on the football broadcast, that means the two-and-a-half-minute clip racked up 128 million views in a single day.
Actress Daisy Ridley, who plays Rey in the movie, was one of 128 million:
And so was John Boyega who plays Finn, another one of the lead characters:
In case you're not one of the 128 million faithful that braved a terrible football game to watch the trailer, here it is below:
The gargantuan number of views breaks the record of most views of a trailer in a single day previously set by the second teaser trailer for The Force Awakens, which debuted in April.
In what has to be one of the best marketing coups in history, ticket pre-sales began shortly after, capitalizing on all the geek-gasms that were a product of the trailer's overwhelming awesomeness.
According to a post on StarWars.com, the movie has already broken a number of presale records in numerous countries. Two hundred thousand tickets were sold in the UK alone in the first day of availability.
There are 56 days to go until the official release date, and more records will undoubtedly continue to topple up to and far after that. The Force, or just general fandom, is definitely with everybody.