Chewbacca Arrested for 'Being Without Documents While Driving Darth Vader to the Elections' in Odessa, Ukraine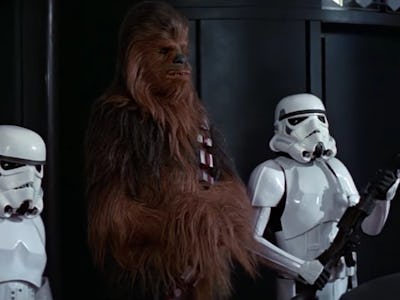 Star Wars
A Wookie — by all appearances famed freedom-fighter Chewbacca — was detained at a Ukrainian local election this weekend.
He was fined £5 for not being able to produce identification documents. In a statement on its official Instagram (identified by The Guardian), the Ukrainian police write:
"Nothing unusual here, just Chewbacca detained for being without documents while driving Darth Vader to the elections in Odessa. The Sith Lord has already claimed this was illegal as Chewbacca is his pet and general servant and thus does not require documents."
The Sith Lord in question, according to The Moscow Times, was not allowed to vote in the election because his name did not appear on the list of registered voters. Imperial Stormtroopers also caused "disturbances" at the polling station and were threatened to be escorted outside.
"If you want to take a selfie with them, go ahead," said Darth Vader, according to The Moscow Times. "I will allow that but expelling my bodyguards is not allowed."
Ukraine elections have taken a particularly Star Wars theme in recent years. Sixteen Darth Vaders allegedly registered as candidates in last year's parliamentary balloting. In 2013, one Vader declared himself as mayor of Odessa and continued his political career into 2014, as one of the campaigning Sith Lord presidents. He's "often seen" protesting in Kiev's Independence Square with his stormtrooper companions, according to The Guardian. If you ever wanted to see Vader handle paperwork, you're in luck.
Last week a Ukrainian statue of Vladimir Lenin was revealed to be repurposed into a figure of Darth Vader. Created by Ukrainian artist Alexander Milov, its helmet is also a wifi hotspot.
While it is expected that the final results of the country-wide local elections won't be announced until October 28, four exit polls released this morning hint that the current government would remain dominant in the West and center of Ukraine. The current election had been considered a likely "turning point" for a country frustrated with corrupt politicians and a dismal economy. The candidates could seemingly be bundled into three groups: reformers, ultra nationalists, and pro-Russians.
Fraud claims led to the cancellation of the election in Mariupol, while electoral authorities in the Ukraine portion of the Donetsk region said "the ballots were flawed and there was no time to print new ones," according to The New York Times.
No word if Chewbacca plans to file a claim for voter rights infringement.