Why Is Marvel's 'Spider-Women' Being Written By Dudes?
It's a missed opportunity by Marvel.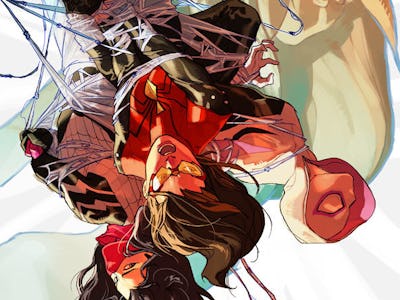 Marvel Comics
Post-New York Comic-Con (remember LexCorp WiFi?), Marvel has announced a new, very exciting comic book series that few fans — let alone fans of Marvel — could afford to pass up: Spider-Women, which focuses on a trio of web-slinging heroines in the Marvel Universe.
Following the events of Spider-Verse, Silk (Cindy Moon) and Jessica Drew (Spider-Woman) find themselves in Gwen Stacy's universe and will team up with her in the new series, Spider-Women, its first issue slated for 2016.
The writing team they've picked is a good fit, since they're all lead writers in each character's solo titles: Jason Latour, Robbie Thompson, and Dennis Hopeless, the scribes for Spider-Gwen, Silk, and Spider-Woman respectively, are tapped to helm the series together.
But why aren't women writing it?
As a fan of Spider-Gwen and Silk, I shouldn't complain. They're great titles and have done justice to the new characters that have drummed up lots of fans in a really short time. (Sorry, I don't read Spider-Woman. Am I missing out?)
But I can't shake off the question of why women weren't enlisted to helm a female-centric series. I'm not wishing for the unemployment of anybody, I'm just honestly asking: Why didn't Marvel enlist women writers? It should just be common sense, and as it stands Spider-Women represents a missed opportunity.
Like a lot of other industries and professions, women are still absent in comic book publishing and writing, yet the medium has historically been one of the most progressive forms of pop culture. Marvel prides on progressivism and inclusion, which makes me incredibly happy as a Marvel reader, but that just makes this creative team for this series baffling.
Short of contractual obligations, other commitments, and just plain interest in the project, great writers like Marjorie Liu, Gail Simone, Kelly Sue DeConnick, G. Willow Wilson, Monica Gallagher, Noelle Stevenson, Marguerite Bennett, and Mairghread Scott should be on the tip of everyone's tongue when it comes to fantastic comic book storytelling, regardless of gender or identity.
But in the case of Spider-Women, the opportunity is, like, right there. What made Marvel not jump at the chance?
I'm a straight guy. I've been written for and written about for a long time. Let me read more stories told by people totally unlike me. I look forward to literally anybody offering me something outside that norm (except Eagles fans).