Coast Guard to End Search for Survivors of El Faro Shipping Tanker
Coast Guard Captain Mark Fedor says his team "did all they could in this search effort."
by Sam Blum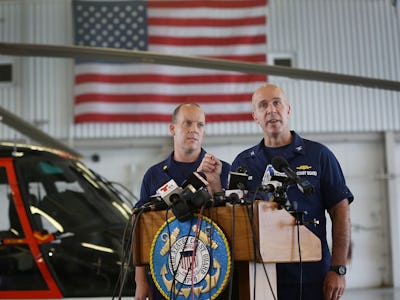 Getty Images
The U.S. Coast Guard's search for the missing cargo ship El Faro, which vanished from radio communication in the midst of Hurricane Joaquin on October 1, will formally end tonight at sunset, announced Coast Guard Captain Mark Fedor at a press conference held today in Jacksonville, Florida.
Fedor, who was joined by National Transportation Safety Board Vice-Chairman Bella Dinh Zarr, stressed that his team from the Southeastern division of the United States Coast Guard "did all they could" to locate the 33 members of the sunken tanker ship during a search mission that encompassed 172,000 nautical miles.
Fedor, who stressed a communal bond between the Coast Guard and the missing crew and their families, called the ship's disappeared crew members "our fellow professional mariners." He also reinforced that it's likely that all missing crew of El Faro are deceased.
"How long can you physically survive if you're in the water, which is normally four or five days?" Fedor said.
Bella Dinh-Zarr has stressed the NTSB's commitment to locating El Faro's black box — the data recorder that could give authorities clues as to when the ship possibly sank, and if there are, in fact, any survivors.
The crew of El Faro has been missing since radio communications between the ship's captain and owner, TOTE Maritime Puerto Rico, were disrupted. None of the 28 Americans or 5 Polish nationals have since been found among scattered debris that's surfaced in the large expanse of Caribbean Ocean. One body was found after the ship's disappearance wearing a fully insulated survivor suit, but authorities were not immediately able to identify it.
It's highly unlikely that marooned crew members of a sunken ship survive long durations alone at sea, although it is not impossible. In January 2014, a Mexican national washed up alone on the shore of a remote Pacific Atoll after 16 months adrift at sea. The man floated for 8,000 miles and survived by eating fish and drinking the blood of sea turtles, according to the Telegraph.
El Faro embarked from Jacksonville on September 29 and was bound for San Juan, Puerto Rico before it encountered 50-foot waves and 140 mph winds generated by Hurricane Joaquin. Fedor said it was unlikely that there are any survivors.
"If they abandoned ship on Thursday [October 1], it would have been into that Category Four storm. It's just a dire situation," he said.