Survival Suits Couldn't Save the Crew of El Faro from Hurricane Joaquin 
They're an integral part of surviving a shipwreck, but not in a Category 4 Hurricane. 
by Sam Blum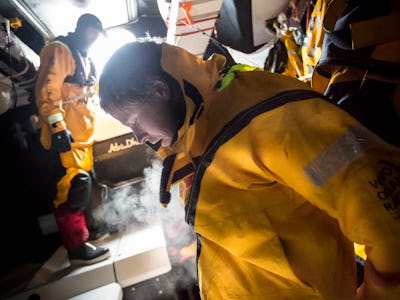 Getty Images 
The 790-foot cargo ship El Faro embarked from Ft. Lauderdale, Florida on Tuesday, September 29, on a voyage bound for Puerto Rico. Meanwhile, a tropical storm that had been brewing in the Atlantic started accruing volatile momentum and soon diverted course from its projected point of impact along the American Northeast toward the Bermuda triangle.
The next day, the surging storm was no longer just an anxiety-sparking tempest, but a hurricane spurting gusts of wind reaching 80 mph, poised to intercept El Faro's Puerto Rico-bound voyage among the islands of Hispañola.
On October 1, radio communications between El Faro's captain and the ship's owner, TOTE Maritime Puerto Rico, were lost. Joaquin eventually intensified to a Category 4 hurricane, battering El Faro's 40-year old hull with a spate of 120 mph winds and 50-foot waves.
The massive cargo ship has since gone completely missing along with the crew of 28 Americans and 5 Polish nationals. News reports described one unidentifiable body found among the scattered debris wrapped up in a Survivor Suit: a fire retardant full-body covering made of neoprene, designed to keep wayward crew members both floating and insulated when immersed in freezing waters that cause hypothermia.
Survival suits are commonplace onboard large, commercial vessels that routinely embark into tropical storms. But how effective are they really at doing what they're supposed to do: ensuring survival?
Survival suits are typically one-size-fits-all, made of stretchy, rubber-like neoprene that's easy to throw on in a quick pinch. They're usually equipped with large mittens and booties, and are meant to be warn with clothes on underneath. Although they seem big and cumbersome — like a vibrantly colored Halloween costume equipped with tubes, water-proof zippers and a protective face-mask — 'they're meant to be donned in a few seconds, so someone can evacuate a sinking vessel and endure hazardous conditions for several hours.
Here's a handy instructional video on how to put on a survival suit:
There are different varieties of survival suits made for certain dicey professions and military trades, like flying a jet engine, for example. The kind warn by the only found, deceased crew member of El Faro was meant specifically for wading through choppy waters while hypothermia threatens to lower one's internal body temperature. To offset hypothermia, which can occur in waters as warm as 85-degrees Fahrenheit, neoprene stands to insulate one's body. Survival suits have reflectors, whistles, an inflatable pillow meant to keep an unconscious person's head above water, along with a few other contraptions.
Several manufacturers produce these suits, and offer certain tips as to how to procure them, although some retailers cater to private purchases while others work exclusively with the Coast Guard.
Even though all 33 members of El Faro's crew are yet to be found among the ship's wreckage, it's worth knowing that survival suits were easily the best resource they had while abandoning ship. Local news broadcasts in Florida have reported that search and rescue missions continue simply because the suits offer a glimmer of hope among what little debris has been found in the massive expanse of Caribbean Ocean.