Apple Architecture Arrives in Sunnyvale
The world's most profitable company is remaking the Bay Area in its own image.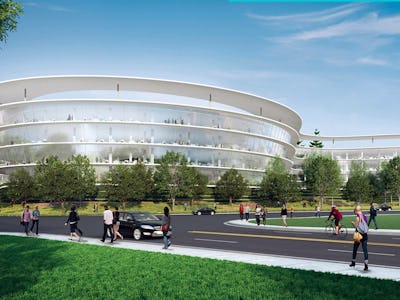 Apple has signed a deal to build and occupy a futuristic office building three miles south of its Cupertino mothership, which remains under construction. According to a report in the Silicon Valley Business Journal, the new building will host 3,000 employees, making it a symbol of corporate expansion. Non-symbolically, it will also be the latest piece of memorable Apple architecture, a burgeoning genre unto itself, to grace the Bay Area.
Central & Wolfe skimps on right angles in favor of a circular, Getty Museum-style curvature. Like the bigger building to the north, it invites extraterrestrial metaphors, but what remains remarkable is the degree to which the building, designed by HOK architects, has Apple's fingerprints all over it. Like the company's devices, it aggressively obscure function, using form without trading the one for the other. And it looks expensive. Everything Apple does looks expensive.
The news may be meaningful to Apple watchers, but it might be more so to locals nervous about runaway development on the Peninsula. The age of rectilinear office parks is clearly over, but the age of architecture as branding isn't in full swing just yet. The new structure in Sunnyvale marks a step in that direction — especially considered in light of the facts the company just purchased 70 acres in North San Jose for $300 million.
The Bay Area may be full of Android loyalists, but it's beginning to look like an Apple owns these towns.