Watch Kenny Irwin Microwave a Rose Gold iPhone 6s Plus
Could be art. Could be destruction. Here's the newest clip from dOvetastic Microwave Theater.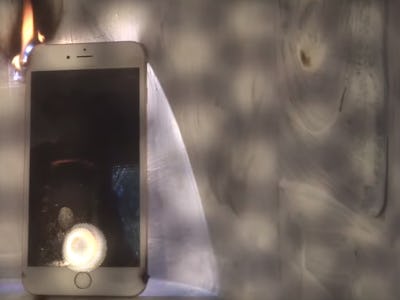 dOvetastic Microwave Theater
Apple's new iPhones 6s and 6s Plus are selling really well. Today, the tech behemoth announced a record of more than 13 million units sold within the first three days of launch. It's a highly sought-after device. So when Kenny Irwin got his hands on the new Rose Gold 6s Plus, he popped it straight into the microwave.
When I last heard from Irwin, he was telling me about his dOvetastic Microwave Theater. He's been microwaving electronics ever since he was a kid, and started the YouTube show at the website's dawn. (It celebrates its 10th anniversary in February!) He promised to microwave Apple's newest release, and now he's fulfilled that promise with "Microwaving My New iPHONE 6S Plus Rose Gold."
The outcome of Irwin's microwaving is pretty extraordinary. Irwin himself couldn't even believe it. "This is the very first iPhone out of more then a dozen different previous gen iPhones since the first one came out in 2007 that physically stayed on while it was be microwaved," he tells me. "It not only re-booted once but twice well into the microwaving. It was unbelievable like Apple introduced back-engineered alien tech into their latest version."
He pulls the battery out of the incinerated phone, too, which shows that's it's about 14 inches long! That's a lot of battery to fit inside such a slim device, a veritable tapeworm of a battery. Irwin has fun with the video, pulling out the "Hydro Sonic boooOOooom Blaster" to cool down the phone. He got his favorite comment from it: "BEHOLD! Praise the hydrosonic blaster, our lord and savior, may the almighty boom extinguish the unholy flames of consumerism."
The "MICROWAVED Rose Gold iPHONE 6S Plus" is available for purchase on eBay. As he told me last time, his goal is "creating unique art," but an artist gotta eat. "I love my career of being a professional microwave operator, which is a part of my civic duty as an artist," he reiterates. It's part science and part art, and always awesome to see such an extraordinary device pushed to its physical limit.
He leaves me with one more promise: "I hope to do the iPAD Pro next."