'Lucifer' showrunner teases a future Constantine crossover after Season 5
"Crisis on Infinite Earths" really did change everything...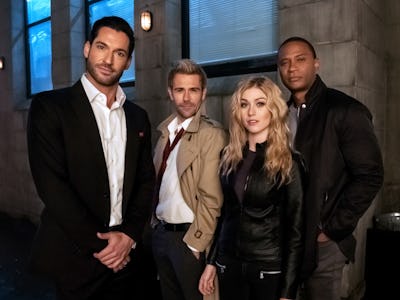 The CW
While the infinite worlds of the multiverse were collapsing, the devil was partying. In the aftermath of the surprise crossover between the TV shows Fox/Netflix's Lucifer, NBC's Constantine, and the "Arrowverse" shows on The CW, Lucifer's showrunners are now joking about a Constantine/Lucifer spin-off.
There isn't actually a spin-off show in the works, but the seeds are now planted should the powers that be decide to let the devil free.
In an interview with Entertainment Weekly, Lucifer co-showrunner Joe Henderson revealed how Tom Ellis' Lucifer crossed networks from Netflix into The CW for this year's annual DC crossover, "Crisis on Infinite Earths."
"A year ago when they announced 'Crisis on Infinite Earths,' I called the executive of DC and I'm like, 'If there are infinite earths, that means Lucifer's on one of them.'" 
Apparently the upper brass of DC and WarnerMedia agreed, because the pieces fell in place for Ellis to travel up from Los Angeles (where Lucifer shoots) to Vancouver, Canada (where the vast majority of The CW's shows are filmed).
"I don't know what was the chicken and the egg," Henderson said, "but all I know is like that has been something that I've been wanting to do ever since I heard it happened and I can't believe we actually did it. It's the coolest thing."
In "Crisis on Infinite Earths," a crossover of the TV shows Arrow, The Flash, Supergirl, Legends of Tomorrow, Black Lightning, and Batwoman, the vanishing of the multiverse necessitated dark arts magician and "Legends" member John Constantine (Matt Ryan, who first portrayed the character in his own series, NBC's Constantine in 2014) to get a little help from an old friend: Lucifer.
Their scene, which took place on "Earth-666" outside Lucifer's club, ended with Lucifer offering access purgatory in order to retrieve the lost soul of Oliver Queen, also known as the Green Arrow and hero of the TV show Arrow.
Before "Crisis," Lucifer and Constantine never once mentioned the other in their shows. But their meeting in "Crisis on Infinite Earths, Part 3," an episode of The Flash, confirmed they have unseen history together. As revealed in the dialogue, Constantine played a mysterious role in the fate of Lucifer character Maze (Lesley-Ann Brandt), who did not appear in the crossover but was leveraged by Constantine as an owed favor from Lucifer.
Shortly after the episode aired, fans on Twitter speculated what happened between Constantine, Lucifer, and Maze, which sparked hype over a theoretical crossover in Lucifer's upcoming fifth and final season on Netflix. Nothing is confirmed, but Henderson acknowledged its possibility.
"I have thoughts," Henderson coyly told EW. "I have theories [about Lucifer and Constantine] and we should explore it in the spin-off." (EW notes that Henderson was being sarcastic with his comment.)
On Instagram, Matt Ryan also hoped for a crossover, writing in a photo featuring himself and Ellis shooting the episode: "A pleasure working with you @officialtomellis hopefully Lucie and ConstanTINE can cross paths again."
Henderson further revealed that the scene was written by Lauren Certo, a staff writer on The Flash who Henderson mentioned is a fan of Lucifer. "I thought they did such a wonderful job of capturing the voice, knowing how to write Lucifer, because Lauren Certo watches the show." Comics writer Sterling Gates also co-wrote the episode with Certo.
Will there be another crossover episode between John Constantine and Lucifer? It's hard to say, as Lucifer's appearance on "Crisis on Infinite Earths" only happened because Tom Ellis was able to make it to Vancouver. Plus, with "Crisis on Infinite Earths" possibly ending with the dissolution of the multiverse (at least, that's how its namesake 1985 comic book miniseries ended), there may not be a lot of time left in the future for Lucifer.
Still, if fans demand it, they just might get their wish. Just be careful when you make a deal with the devil. Stranger things have happened.
"Crisis on Infinite Earths" will conclude on January 14, 2020 on The CW.